Washington Park

High School




Class Of 1965
Welcome to the Park High Class Of 1965 website, created to promote our 50th Reunion and help us re-connect with classmates from the Class of 1965. Reunion dates are

AUGUST 7th, 8th and 9th

. Check the links on the LEFT for each event to see who will be attending. Click on the Reunion Information for details for each event.
Prayers Needed for Don Piggins
Received a text today from Laura Piggins Don's daughter. Don has been in the ICU for about ten days. No mention what happened but that the family would appreciate our prayers. A little improvement was seen today but he has a long road ahead. Don is at 101 3rd Avenue Columbia, TN 30841 if anyone wants to send him a card.
Panther Breakfast and Lunches. (Summer)
5/20 Last Breakfast before the summer break.
8/12 Panther Breakfast at The Dynasty for the regulars and classmates that are staying around…(please let me know if planning to attend). (Spouses welcome for this event only). Call/email Skip Meekma 633-7019 or cindyskip2@gmail.com
After Labor Day we return to our regular schedule for Panther Breakfasts and Lunches.
******************************
Update on Brian Peterson. Just a little more than a week ago Brian started feeling like crap. He just wanted to sleep and he started to have some problems with breathing kind of hard. By Monday, May 11th he was breathing really hard and so I called and got him to Froedtert to see his Dr. From there, it seems everything went downhill. The Dr. sent him to the emergency room. He was put on oxygen right away because his oxygen level was really low. Low blood pressure too. A fever of almost 102. From there, they admitted him to the Medical ICU. He has been there ever since. The best I can describe what we were told today is, they are leaning toward the conclusion that his lung problem (pneumonia) could be caused from the transplant. The stem cells he received sometimes can attack your organs because they think they are foreign. They are not positive yet, they are still looking at everything and trying to piece it all together. They started him on some steroids because that is how they treat anything to do with the GVHD (Graft versus Host Disease) Donor cells attacking his. Please keep Brian in your prayers. Per Mardelle Peterson
Due to the large number of classmates participating in the SCJ Tour on Saturday morning, we will need to break into three groups--8:45, 9:45 and 10:45. Tours will be in two 20 member groups. No additional sign-ups until we get this sorted out. Wingspread Tour, we only have a few openings available for the 9:30 tour. ksmirish@gmail.com or 920-362-8281 for questions
**************************
A Racine map indicating Reunion sites has been added to the Reunion Infomation link. Each site has the event address listed in the details. Thanks Skip Meekma.
PARK CLASS OF '65 PANTHER SCRAMBLE!
WHAT: 9-hole foursome Panther Scramble
HOW:
Everyone tees off, hits from the best shot on each hole. Everyone on the team finishes with the score ADDITIONALLY: Free sleeve of three balls, free water. Trattoria DiCarlo, the club restaurant, opens at eleven for lunch
NOTE:
Anyone wishing to play an additional nine holes may reserve at the club, 262-898-9900
If you want a specific partner, let us know; otherwise it's mix 'n' match!
*****************************
HOTEL ROOM BLOCKS ask for Park Class of '65 Rate
FAIRFIELD INN 262-886-5000. $105/night plus tax Expires June 6th
RADISSON 262-632-7777 $139 -$154/night plus tax Expires July 9th
MARRIOTT 262-886-6100 $95/night plus tax Expires July 16th
COMFORT SUITES 262-886-6055. $68/night plus tax Expires July 23rd
*************************
Don't miss THE BEST 50TH REUNION--EVER. If you lost your registration form or can't download it from the email, let me know. 920-362-8281 or ksmirish@gmail.com
**************************
Registration Results
227 people are attending Friday's Pizza Party including seven teachers and 245 will be at Roma Lodge on Saturday evening. Only about Three Months To Go!
Don't miss the fun on Saturday night at Roma with the Doo Wop Daddies! It does not have to be a date night. Many classmates are attending without guests and many are bringing their spouse or partner. Sing along to the Four Season, Shirelles and many Oldies that we all knew and loved! Participate in the Auction and maybe win an autographed football or Packer or Badger tickets! Support the Scholarship Fund! Dress is "Summer Comfortable", comfy shoes, no sports coats or ties needed. Girls capris, sundresses and dressy jeans are fine. Save the shorts and t-shirts for Friday night. It's AUGUST and it could be steamy!
Scholarship donations have been made remembering Jim Amundsen, Dennis Barry, Lynne Foley, Mary Gehrke, Bonnie Gruner, Brian Johnson, Leslie Larsen, David Olsen, Dennis Rognerud, Gerald Stirle, Pam Weimer. Teachers attending Friday night at Infusino's: Ruth Ann Baumann, Ron Gardina, Carol Hatch, Robert & Jane Holroyd, Jo Ann Sawyer, and Paula von Scheidt.
**********************
Copy the link and paste to find the #1 song on the day you were born
http://playback.fm/birthday-song
*************************************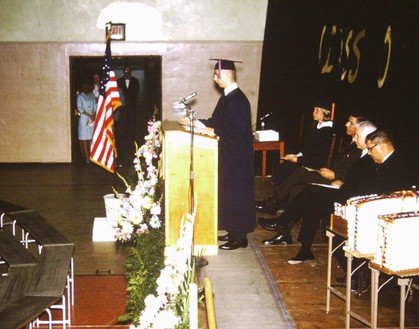 President Scott Leigh addressing the graduating Class of '65
*******************
Classmates Carol Tyree and Judy Schenkenberg volunteering at Fundraiser Empty Bowls March, 2015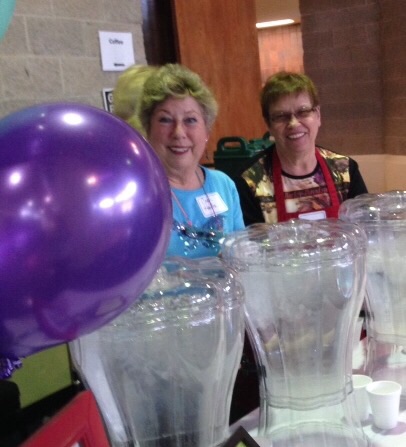 PANTHER BREAKFAST/LUNCH
Every other Wednesday morning, you can meet with classmates at The Dynasty on Lathrop Ave. for the Panther Breakfast and if you can't make that, then two weeks later, meet for the Panther Lunch at the Charcoal Grill on Washington Avenue. Get on the email list by calling Skip Meekma in Racine. 262-633-7019 or cindyskip2@gmail.com First come, first served.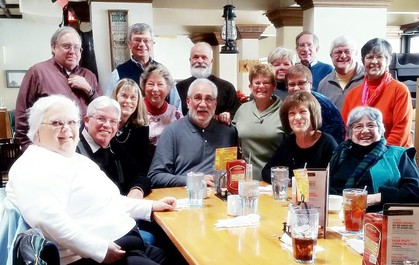 Top Row: Paul Dorsey, Chuck Carothers, Guy Rannow, Jonnie Rasmussen, Bill Guenther, Mike Loomis, Linda Campeau
Bottom Row: Lynn Cutrell, Jim Beyer, Sheila Dermody, Carol Tyree, Art Rozzoni, Karen Klingenmeyer, Judi Mentsch, Judy Shenkenberg, Lynda Zamagni
******************************
Lunch get-together
Linda Campeau, Diane Kaestner, Sandy Hansen, Carol Tyree, Lynda Zamagni, Jonnie Rasmussen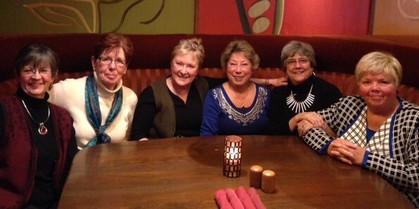 *********************************************
The Villages, FL February 24, 2015
Sharen Breidinger, Peter Winnen, Linda Bodenbach, Karen Yurk and Marcia Wittke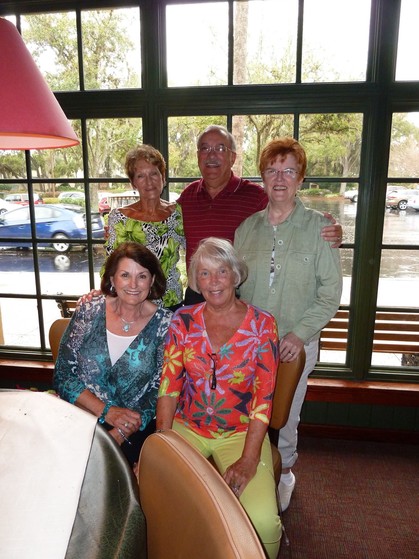 Kudos to Skip Meekma for initiating the Classmate Breakfast every other Wednesday at The Dynasty Restaurant on Lathrop. From left: Lynda Zamagni, Jim Beyer, Art Rozzoni, Mike Holland, Skip Meekma, Diane Kaestner, Trudi Slesarenko, Sheila Dermody, Jonnie Rasmussen. Photo taken by Linda Campeau.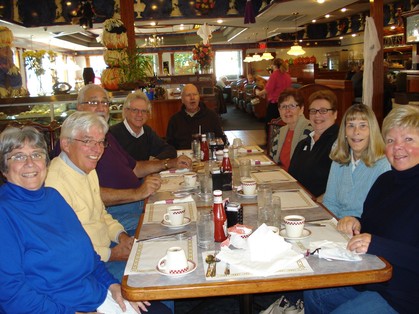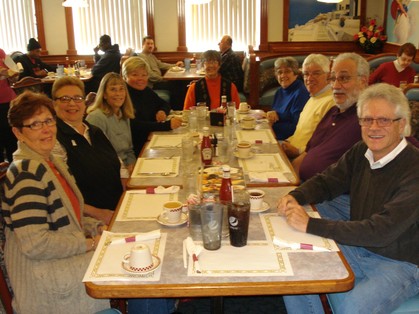 *****************************************************************
Anyone needing to board a pet, there is an excellent dog hotel and day spa states Lynn Cutrell. Dogs aren't crated and staff is on site 24/7. Check out www.woofdorfastoria.com and then call owner Eric Marcus about special rates.
***********************************************************
Reunion Events
THURSDAY EVENING: 6:30pm Chuck Carrothers suggested that we add an informal gathering at Buckets Pub 2031 Lathrop Ave, known far and wide for its great wings and burgers. Anyone in Racine early for the Reunion, as well as those living in or near Racine presently, is welcome. We will have our own private room at Buckets Pub, Best of Racine 2014 for their Wings.
FRIDAY:
Golf outing morning Meadowbrook $35.00 with cart for 9 holes
9:30, 11:30 or 1:30 Johnson Foundation at Wingspread Tour (FREE) Originally was the H.F. Johnson family home
6:00-11:00 Pizza night at Infusino's $15/person pizza, salad. Casual Dress Shorts OK

SATURDAY:
9:15-noon SC Johnson Administration Building, Fortaleza Hall, & Research Tower Tour (morning) (FREE)
5:30-midnight Dinner at Roma Lodge $50/person. "Summer Comfortable" Dress. Sports Coats or Formals not required. Dressy jeans ok. Save the shorts and t-shirts for Friday night and the tours. Comfortable shoes for dancing all night!
Featuring the LIVE BAND Doo Wop Daddies from Milwaukee area!

SUNDAY:
10:00 Tour of Park High with Kringle and Juice (No Charge)

*****************************************
The Dynasty Breakfast Group.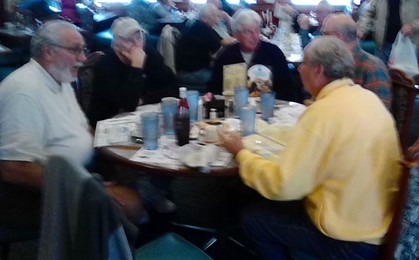 Art Rozzoni, Bob Zigas, Jim Beyer, Al Sinstock, Bob Schneider. Taken by Skip Meekma.
*******************************************
Jonnie Rasmussen, Diane Kaestner, Marilyn Kayon, Lynda Zamagni-seated, Carol Tyree, Linda Campeau met for dinner in Racine.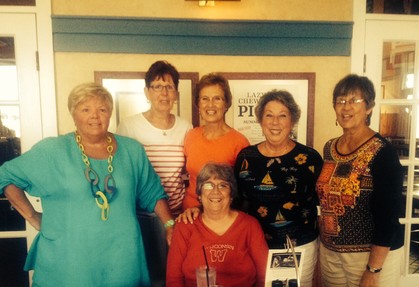 Michele & Rich Caskey, Bill Guenther, Bob Ziegler, Kathy Sidwell Smullen, Dave & Jeanette Fegler Zimmerman, Barb Packard Ziegler, and Mike Holland met in Door County, August, 2014.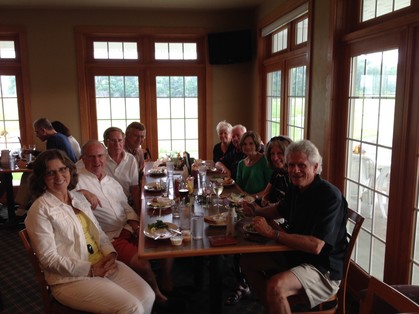 ******************************************************
Don Piggins has sent photos of past and current interests. Thanks to all of you who are sharing your interests. It makes this site all the better.
From Don Piggins--What I've Seen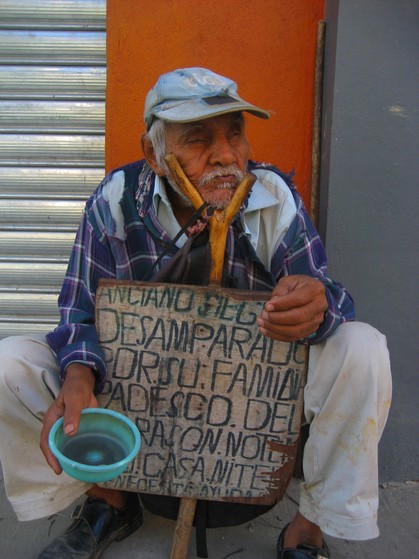 *******************************************
From Don Piggins: currently accompanied Rikki Maragos to a Greek family wedding in Detroit.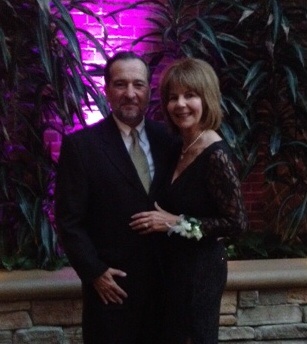 *****************************************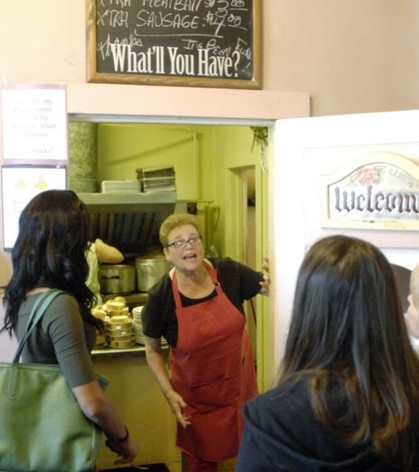 Trudy Rozzoni working her last day Totero's Restaurant on Mead St. Totero's, a Racine institution closed after being a destination in Racine for 39 years. The last plate of Lasagne was auctioned for $200!
***********************************************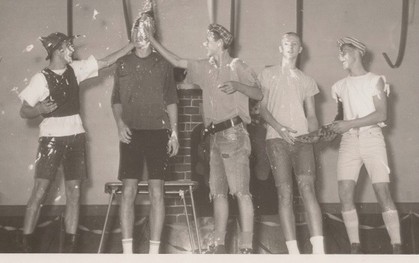 According to John Weibel, we can blame it all on a sociology class assignment. The end result was Rocky Falaschi, John Weibel, Skip Meekma, Mike Snyder and Al Singstock wowing the kids at Southern Colony with a skit that involved plenty of smooth moves and, yes, singing.
Because it was the holiday season, I believe the tune was "Jingle Bells". Skip Meekma was the choreographer, drilling us thru all our intricate moves the day before in Park's 1st floor hallway. We did get an "A", and I can remember that because there were few, if any, other A's ever to appear on my report card. The pic I submitted for the classmates site is one of 3 I found tucked into my kipi, all pretty much the same, but with slight variations. John Weibel
*********************************************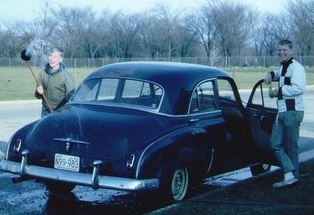 Mark Krogh and Al Singstock vintage photo.
********************************************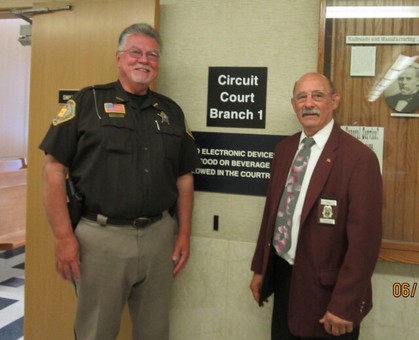 Sheriff John Charewicz and Bailiff Tom Gustin in a rare appearance working together at court.
******************************************
SCJ OPENS RESEARCH TOWER TO TOURS (our tour is Saturday morning).
RACINE — The Frank Lloyd Wright-designed SC Johnson Research Tower opened Friday to public tours and strong reviews.
For 32 years the tower, on the headquarters campus of SCJ at 1525 Howe St., was used by company scientists who invented such household products as Raid, Glade, Pledge and Off.
The tower, on the National Register of Historic Places, consists of alternating squarish floors and cantilevered round mezzanines. Each mezzanine is open to the floor below it to allow scientists to communicate more easily. Wright coined the term "taproot" to describe the unique foundation to his design.
Two floors of the 153-foot-tall tower have been set up much as it would have been in the 1950s. Along the countertops are flasks, beakers and test tubes; a centrifuge; molecular models; vials of colored liquids and jars of brightly colored crystals; an old journal; and much more.
Those items are accompanied by vintage SCJ ads from magazines and one playing on a TV screen.
****************************************************************
Class of '65
What are some reasons nobody forgets their high school years? This was the place we grew up. This was the place where we were safe. This was the ground where the seeds of later-life got sowed. These were the people who were the friends upon which we learned who we were, and who we would become. These people were the teachers of all the really important lessons of living and of life. To forget your high school years is to lose a major part of you. It isn't over, of course; we are only 66 or 67. The members of our class, they teach us now of the importance of holding life in reverence. They teach us the critical importance of enjoying the moment and living well in it.
So in this vein I thought it might be fun, interesting, or just plain weird to see what we are doing in retirement. Photography, water colors, quilting, woodworking, car restoration, biking, carving, model trains, writing poetry, pottery, gardening, volunteer work, etc. Just email me a photo and I will place a few each week on this page.
ksmirish@gmail.com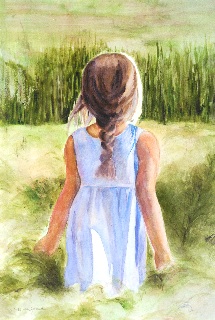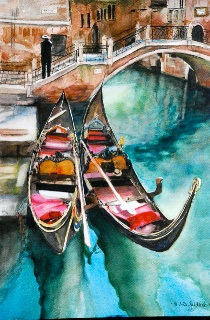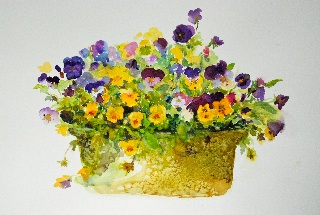 Venice
Watercolors done by Marilyn Kayon McGoldrick
Tom Gustin selling some of his woodcarving projects. A style of Native American Flutes. All completely hand carved. Tom graciously donated one of his flutes for the auction on Saturday night at Roma Lodge.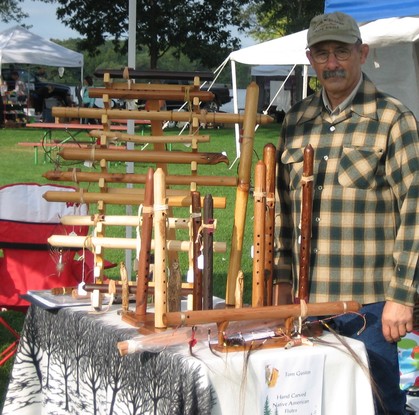 Jim Hunnicutt keeps very busy with his garden railroad that fills his backyard. Currently there is almost 850 feet of track on which five separate lines run. Four of the lines are continuous loop lines and the fifth is a point to point trolley line. The four main tracks are all controlled with the AristoCraft Train Engineer and the trolley line is controlled with a 10 amp MRC controller.
Fifteen tons of assorted rock make up the "Rocky" part of our railroad. Much of it is exposed as decorative elements and landscaping and the other is used as construction material. Kevin is the gardener and the railroad is planted with over five hundred miniature trees, ground covers and bulb stock. All plants are labeled for identification. There are five small "lakes" and two waterfalls in the layout as well.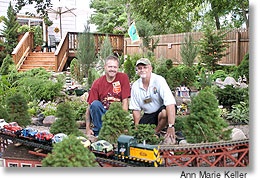 ******************************************************
These photos were from the 1964 cheerleading squads. Anyone remember which one of these lovely ladies became the Park Panther mascot the following year? Anyone besides Skip Meekma guess Cheri Krueger?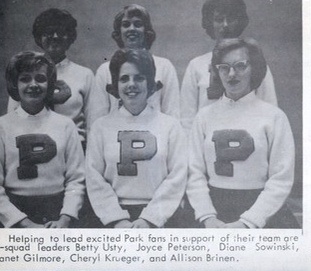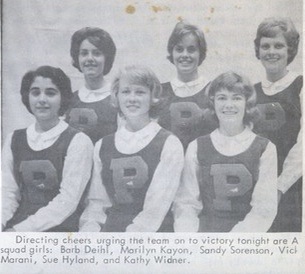 ****************************************************
OUR CLASS OF '65 HAS TEN CLASSMATES THAT ARE MEMBERS OF THE PARK HALL OF FAME--CLICK ON PARK HIGH TRIVIA TO SEE WHO THEY ARE
Washington Park High Class of 1965 50th Reunion Weekend
SAVE THE DATE: AUGUST 7, 8 AND 9th 2015
We have picked the dates & have reserved the halls for our 50th Reunion. This will be a really fun and memorable weekend—not just a one night stand.
FRIDAY:
Golf outing morning Meadowbrook $35.00 with cart

1:30-3:30 Johnson Foundation at Wingspread Tour afternoon (FREE) O

riginally was the H.F. Johnson family home

6:00-11:00 Pizza night at Infusino's $15/person pizza, salad, soda
SATURDAY:
9:15-noon SC Johnson Administration Building, Fortaleza Hall, & Research Tower Tour (morning) (FREE)

5:30-midnight Dinner at Roma Lodge $50/person

Featuring the LIVE BAND Doo Wop Daddies from Milwaukee area
SUNDAY:
10:00 Tour of Park High with Kringle and Coffee (No Charge)
All of the tours are free!
ANNOUNCEMENTS
I thought you might like to see some of my watercolors I'm doing to enjoy retirement. Jim