Washington Park

High School




Class Of 1965
Welcome to the Park High Class Of 1965 website, created to promote our 50th Reunion and help us re-connect with classmates from the Class of 1965. Reunion dates were

AUGUST 7th, 8th and 9th
***************
Lost in the Fifties Tonight by Ronnie Milsap
Check out this link recommended by Rich Nutt and John Weibel
http://safeshare.tv/w/FEDEwZHZXu
Great presentation and the music is superb.
Click Select on the link, copy then paste in your browser
*************************
HAPPY THANKSGIVING
safe travels, good times with family and good friends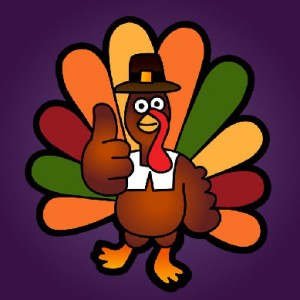 ****************
HOLIDAY MARKET AT KOHLER
shopping with Class of '65 classmates
top row Pat Georgeson, Lynda Zamagni, Carol Tyree, Linda Campeau
bottom row Jonnie Rasmussen, Diane Kaestner, Karen Yurk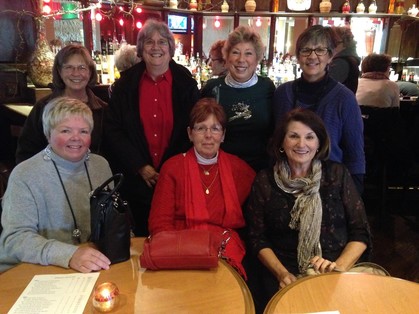 **************
News on Bart Starr See story below!
************
The Final Tally
for the Class of '65 Scholarship Fund
(sorry it took so long to get this great news posted!)
Letter from Park Principal posted below brunch photos and information.
******************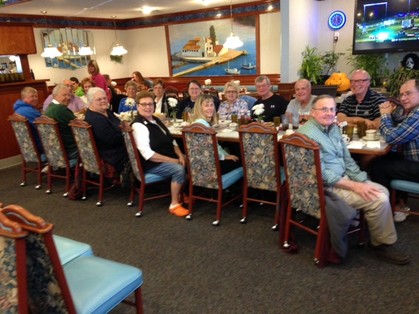 I see Dave Manchester, Art Rozzoni, Marilyn Kayon, Carol Tyree, Diane Kaestner, Bea Hansen, Vickie Andress, Chuck Carothers, Guy Rannow, Al Singstock, Eric Guttenberg, Bob Jacobsen, Sheila Dermody, Trudy Slesarenko, Lynn Cutrell and Bob Schneider. Now who did I miss?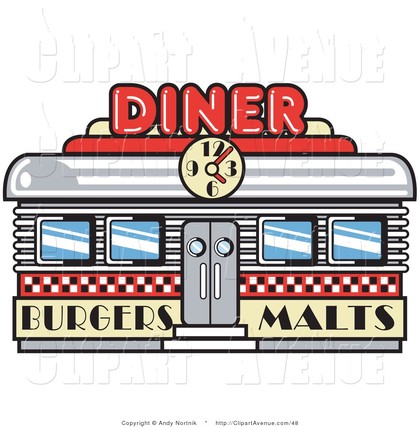 NEXT PANTHER BRUNCH WEDNESDAY, NOVEMBER 25th
10:30 at THE DYNASTY
email Skip at cindyskip2@gmail.com or 262-633-7019
by Tuesday November 24th, no later than noon
*************
BART STARR RETURNING TO LAMBEAU
Bart Starr is on a mission and the goal is crystal clear.
Thanksgiving evening. Lambeau Field. The Packers vs. the Bears.
It's a dream scenario for Green Bay Packers fans: three iconic franchise quarterbacks — Starr, Brett Favre and Aaron Rodgers — at Lambeau Field when Favre's name and jersey number are forever placed on the facade inside the stadium.
"It's our goal to go to Green Bay and have Bart go out on the field with Brett and Aaron," said Cherry Starr, Bart's wife, in an phone interview Saturday morning from their Alabama home.
"It will be a historic moment in Packers history. Three Super Bowl champion and (league) MVP quarterbacks have never been on the field at the same time. We want it so badly and Packers fans want it, and the Packers organization has been so accommodating. It's going to be a great moment and, unless there's a setback, we're on a good path right now for Bart to be there."
It's been a long and challenging road for the 81-year-old Starr since the former Packers player (1956-'71) and head coach (1975-'83) suffered two strokes, a heart attack and seizures in early September 2014. He nearly died in the hospital, but recovered and was released to begin therapy to improve his motor skills, speech and memory.
In a December 2014 interview, Cherry Starr told Packer Plus that, "He had his first stroke the day he went to the hospital. That would have been something from which he could have likely recovered, if it had stopped there. Unfortunately, the second stroke and the multiple seizures did the most damage.
"The doctors told me if he had one more seizure he might not live, and I didn't know if Bart would make it through the night. Somehow he did. Even though he's 80, he's still tough."
With the help of his family, doctors and therapists, Starr took his first steps in early December 2014. He continued to make slow progress throughout 2015 while overcoming setbacks like bladder and viral infections.
In June, Starr was accepted into a clinical trial for stem cell therapy and had one treatment, which had some positive effects on his condition. A second treatment is scheduled in mid-November.
Since an ESPN The Magazine article on Starr's recovery ran in early September, the Starr family has received an overwhelming amount of letters and emails from concerned fans.
His memory, which was slipping before the events of September 2014, is still a work in progress, as is his speech.
"He can't do interviews at this time and he's limited," Cherry said. "Things resonate when we're talking, but fade quickly."
The Starrs have been married 61 years, and Cherry is hopeful that the second treatment will help further her husband's quality of life.
"We stay in a lot and can't go out for dinner like we used to," she said. "But we have wonderful friends and family who visit us at home."
This past weekend, the Starrs had friends visit from South Carolina, who spent Saturday with Bart watching the University of Alabama-Tennessee game.
"Bart was in his Alabama jersey watching them play their rivals from Tennessee," Cherry said. "And on Sundays when the Packers play he's in his jersey watching them play. We don't miss a Packer game."
Packer nation hopes the legendary quarterback will continue to progress and be at Lambeau Field on Nov. 26 as Favre's No. 4 takes its place on the stadium facade alongside five other jersey numbers: 3 (Tony Canadeo), 14 (Don Hutson), 15 (Starr), 66 (Ray Nitschke) and 92 (Reggie White).
"Bart has had a special relationship with Brett and Aaron over the years, and I know he's thrilled to be a part of Brett's special day," Cherry said. "It will be a Thanksgiving to remember for Packers fans everywhere."
PARK-HORLICK FOOTBALL RIVALRY
Did you know that the Park-Horlick football rivalry goes way back to 1928, when the first game ended in a 0-0 tie. It is the second oldest high school rivalry in the state, second only to Green Bay East vs Green Bay West which dates back to 1904. Since the inception, Park leads the series 52-31-6. In 1943 and in 2008 the schools played each other twice. In 1963, when we were sophomores, Park was victorious 23-20. In 1964, as Juniors, Park and Horlick ended the game with a 20-20 tie. As Seniors, Park triumphed with a resounding 25-0 win. This year the game is the last of the season on Friday, October 16th. Doesn't look so good. Park is 0-4 and Horlick is 3-2.
This year's score Horlick 40 Park 7 Maybe next year???
**************
Final Tally
for the Class of '65 Scholarship Fund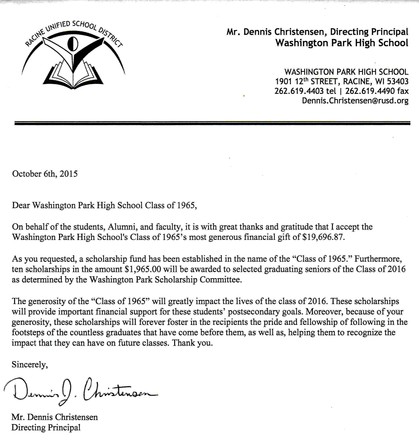 A bunch for lunch in Sheboygan. Pat Georgeson and Karen Yurk both live in the Sheboygan area. They gave us a great tour of Caan's Greenhouse, James Tellen sculpture garden, J Michael Kohler Art Center-- check out the fancy bathrooms below, lunch and a visit to some cool shops on 8th St.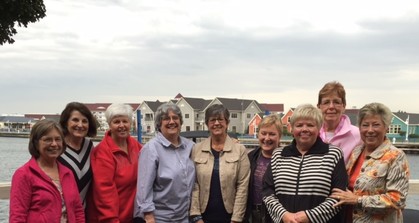 Pat Georgeson, Karen Yurk, Kathy Sidwell, Lynda Zamagni, Linda Campeau, Sandy Hansen, Jonnie Rasmussen, Diane Kaestner, Carol Tyree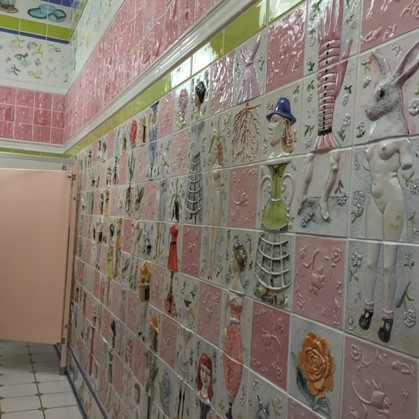 *******************
The following photos from the Park Tour on Sinday, complements of Ace photographer Dennis Treu. Thanks, Dennis!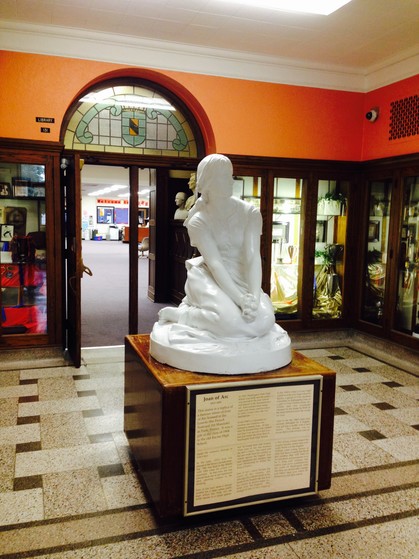 Everyone is still greeted by Joan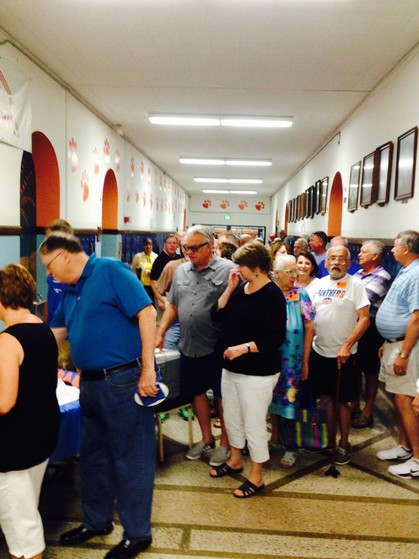 Sunday morning Park Tour Remember some of these good lookin' classmates?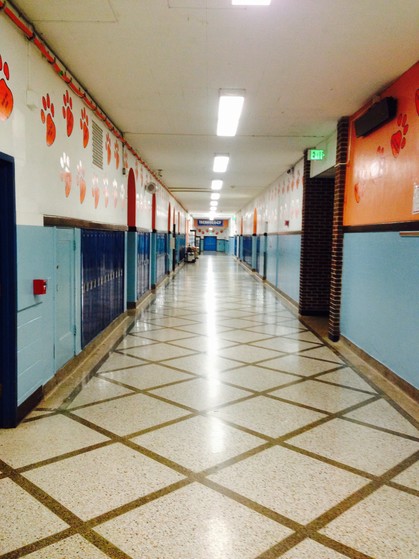 Bring back some great memories? Who was your locker buddy? Mine was Lynda Zamagni!
***************
The FINAL REUNION WRAP-UP, following the Wednesday, September 2nd Committee meeting
Wednesday, September 2nd, 21 members of our planning committee met once
again at The Summit restaurant for a final wrap-up. So did we make seven scholarships? Yes! Did we make eight scholarships? Yes! Did we make nine
scholarships? Yes, but in fact we will award TEN SCHOLARSHIPS of
$1965 each. We, the committee, thanks everyone who
contributed in any way to this monumental achievement. So here is the breakdown
$4225--Rounding up our registration fees
$4570--Auction--includes $1965 football bids by Ken Bengtson
$670--50/50
$5590 scholarship donations during and post reunion including $1965 each
from Dick Hobbs and Peter Kirkegaard
$3900 from the 50th($900+) and 40th ($2900) reunions
With so many classmates suggesting a 70th birthday party, we will meet next spring/summer to see if we can make that happen. More details then, but we are hoping to coordinate with that great band, The Doo-Wop Daddies!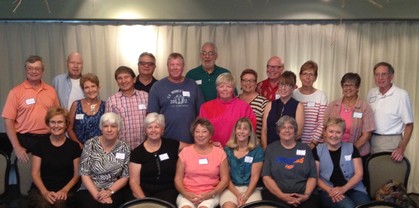 ************
The Best 50th Reunion Ever is in the rear-view mirror. It was fun; it was spectacular; it was fabulous. The photo CD's for those attending Saturday evening festivities at Roma were mailed before Labor Day weekend. If you have not received it yet, please let Bill or Kathy know.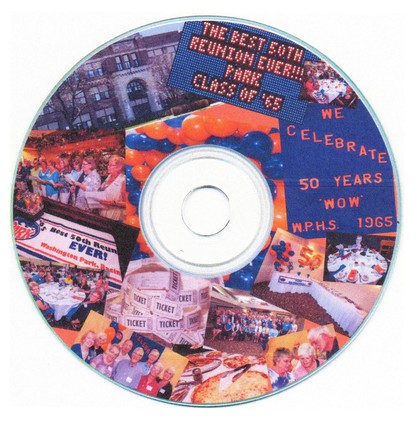 Some of our former teachers who joined us at Infusino's on Friday night. Catch this photo in the JT September 25th.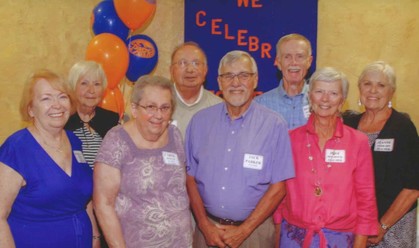 Bottom Row: Ruth Ann Baumann, Carol Hatch, Jack Parker, Jane Holroyd
Top Row: Paula Von Scheidt, Ron Gardina, Robert Holroyd, Jeanne Ferraro
Thank you to these great teachers for coming to the Friday pizza party.
**********************
World Class (of '65) Reunion Weekend
You can now find all of Jim's stories on the left link--Jim Jenkins' Stories. Jim has promised more down the road. So stay tuned.