Washington Park

High School




Class Of 1965
Welcome to the Park High Class Of 1965 website, created to promote our 50th Reunion and help us re-connect with classmates from the Class of 1965. Reunion dates are

AUGUST 7th, 8th and 9th

. Click on the Reunion Information for details for each event.
CHECK YOUR EMAIL OFTEN FOR THE NEXT TWO WEEKS. WE ARE SENDING OUT IMPORTANT EVENT INFORMATION EVERY FEW DAYS. SEE ALL OF YOU SOON.
Don't miss a great remembrance of the summer jobs we held while we were at Park. Jim Jenkins has written a witty recollection. Go to his Profile and scroll down
ALERT: Highway 20 at I-94 is still under construction. Exit and Entrance ramps may be open, but the roads are not very good. Preferably exit I-94 southbound from Milwaukee at Highway K and northbound from Chicago at Highway 11. Oakes Rd off of Highway 11 will take you directly to the hotel area. Oakes Rd is between Willow Rd and Highway 31, head north on Oakes.
ANYONE ATTENDING EITHER THE WINGSPREAD OR SCJ TOURS, FIND SOME PRE-TOUR INFO ON THE LEFT "REUNION TOUR INFORMATION".
ALL EVENT TIMES, ADDRESSES AND OTHER PERTINENT INFORMATION FOR THE REUNION CAN BE FOUND ON THE REUNION INFORMATION LINK TO THE LEFT.
*******************
Pre-reunion THUSDAY, AUGUST 6th
BUCKET'S PUB 2031 LATHROP AVE
6:00-?????? No Reservations Necessary
Food and beverage on your own. Private room for the Class of '65
***********************
Here's some fun!
This is a keeper. It not only lists the song and the label from each Top Ten 45-rpm record for every month, but you can actually click on and play the song, and click on the artist name and see their picture. 1950-1989 hits. Thanks Joel Sys.
****************************
Panther Breakfast and Lunches. (Summer)
8/12 Panther Breakfast at The Dynasty at 9:00 for the regulars and classmates that are staying around…(please let me know if you are planning to attend). (Spouses welcome for this event only). Call/email Skip Meekma 633-7019 or cindyskip2@gmail.com
After Labor Day we return to our regular schedule for Panther Breakfasts and Lunches.
**************************
A Racine map indicating Reunion sites has been added to the Reunion Infomation link. Each site has the event address listed in the details. Thanks Skip Meekma.
Don't miss THE BEST 50TH REUNION--EVER!
**************************
Registration Results
250 people are attending Friday's Pizza Party including nine teachers and 273 will be at Roma Lodge on Saturday evening. One Week To Go!
Scholarship donations have been made remembering Jim Amundsen, Dennis Barry, Lynne Foley, Mary Gehrke, Bonnie Gruner, Brian Johnson, Leslie Larsen, David Olsen, Dennis Rognerud, Gerald Stirle, Pam Weimer. Teachers attending Friday night at Infusino's: Ruth Ann Baumann, Ron Gardina, Carol Hatch, Robert & Jane Holroyd, Jo Ann Sawyer, and Paula von Scheidt, Jack Parker and Jeanne Ferraro
**********************
Copy the link and paste to find the #1 song on the day you were born
http://playback.fm/birthday-song
*************************************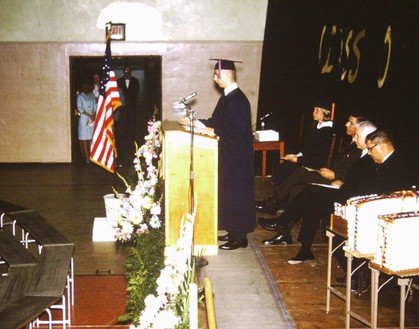 President Scott Leigh addressing the graduating Class of '65
*******************
PANTHER BREAKFAST/LUNCH
Every other Wednesday morning, you can meet with classmates at The Dynasty on Lathrop Ave. for the Panther Breakfast and if you can't make that, then two weeks later, meet for the Panther Lunch at the Charcoal Grill on Washington Avenue. Get on the email list by calling Skip Meekma in Racine. 262-633-7019 or cindyskip2@gmail.com First come, first served.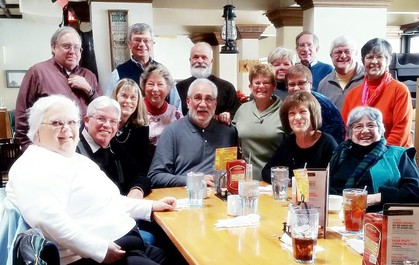 Top Row: Paul Dorsey, Chuck Carothers, Guy Rannow, Jonnie Rasmussen, Bill Guenther, Mike Loomis, Linda Campeau
Bottom Row: Lynn Cutrell, Jim Beyer, Sheila Dermody, Carol Tyree, Art Rozzoni, Karen Klingenmeyer, Judi Mentsch, Judy Shenkenberg, Lynda Zamagni
******************************
Lunch get-together
Linda Campeau, Diane Kaestner, Sandy Hansen, Carol Tyree, Lynda Zamagni, Jonnie Rasmussen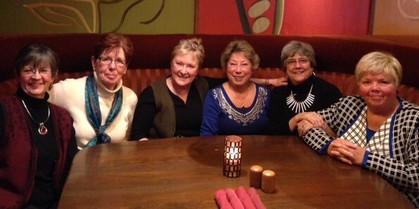 *********************************************
The Villages, FL February 24, 2015
Sharen Breidinger, Peter Winnen, Linda Bodenbach, Karen Yurk and Marcia Wittke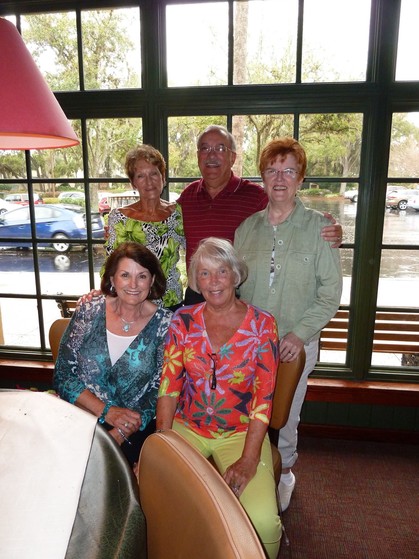 Kudos to Skip Meekma for initiating the Classmate Breakfast every other Wednesday at The Dynasty Restaurant on Lathrop. From left: Lynda Zamagni, Jim Beyer, Art Rozzoni, Mike Holland, Skip Meekma, Diane Kaestner, Trudi Slesarenko, Sheila Dermody, Jonnie Rasmussen. Photo taken by Linda Campeau.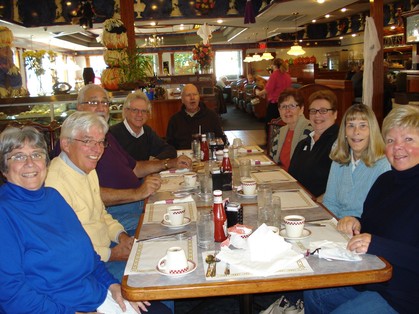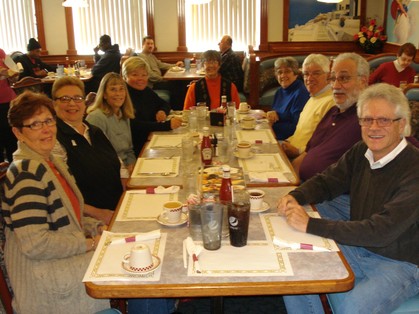 *****************************************************************
Anyone needing to board a pet, there is an excellent dog hotel and day spa states Lynn Cutrell. Dogs aren't crated and staff is on site 24/7. Check out www.woofdorfastoria.com and then call owner Eric Marcus about special rates.
*****************************************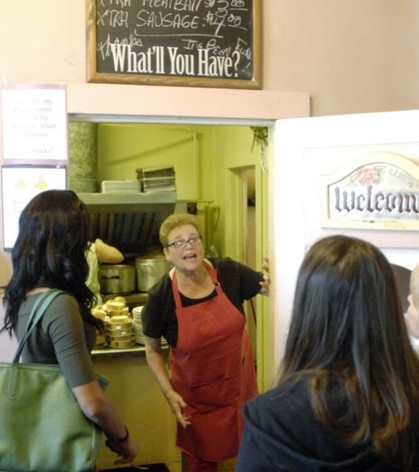 Trudy Rozzoni working her last day Totero's Restaurant on Mead St. Totero's, a Racine institution closed after being a destination in Racine for 39 years. The last plate of Lasagne was auctioned for $200!
***********************************************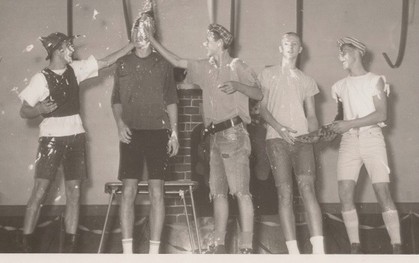 According to John Weibel, we can blame it all on a sociology class assignment. The end result was Rocky Falaschi, John Weibel, Skip Meekma, Mike Snyder and Al Singstock wowing the kids at Southern Colony with a skit that involved plenty of smooth moves and, yes, singing.
Because it was the holiday season, I believe the tune was "Jingle Bells". Skip Meekma was the choreographer, drilling us thru all our intricate moves the day before in Park's 1st floor hallway. We did get an "A", and I can remember that because there were few, if any, other A's ever to appear on my report card. The pic I submitted for the classmates site is one of 3 I found tucked into my kipi, all pretty much the same, but with slight variations. John Weibel
*********************************************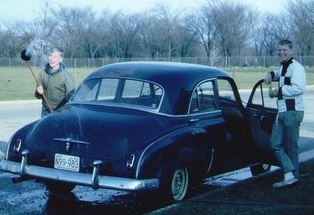 Mark Krogh and Al Singstock vintage photo.
****************************************************
OUR CLASS OF '65 HAS Eleven CLASSMATES THAT ARE MEMBERS OF THE PARK HALL OF FAME--CLICK ON PARK HIGH TRIVIA TO SEE WHO THEY ARE