Washington Park

High School




Class Of 1965
Welcome to the Park High Class Of 1965 website, created to promote our 50th Reunion and help us re-connect with classmates from the Class of 1965. We are open to all suggestions and as is life, this is a work in progress, so stop back often.
Happy Easter Class of '65
What are some reasons nobody forgets their high school years? This was the place we grew up. This was the place where we were safe. This was the ground where the seeds of later-life got sowed. These were the people who were the friends upon which we learned who we were, and who we would become. These people were the teachers of all the really important lessons of living and of life. To forget your high school years is to lose a major part of you. It isn't over, of course; we are only 66 or 67. The members of our class, they teach us now of the importance of holding life in reverence. They teach us the critical importance of enjoying the moment and living well in it.
So in this vein I thought it might be fun, interesting, or just plain weird to see what we are doing in retirement. Photography, water colors, quilting, woodworking, car restoration, biking, carving, model trains, writing poetry, pottery, gardening, volunteer work, etc. Just email me a photo and I will place a few each week on this page.
ksmirish@gmail.com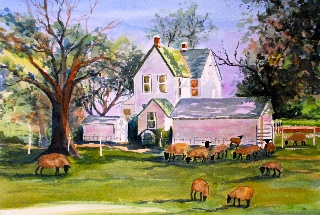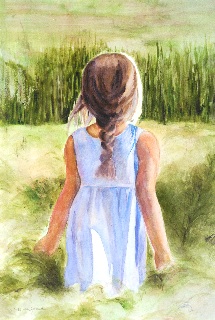 Watercolors done by Marilyn Kayon McGoldrick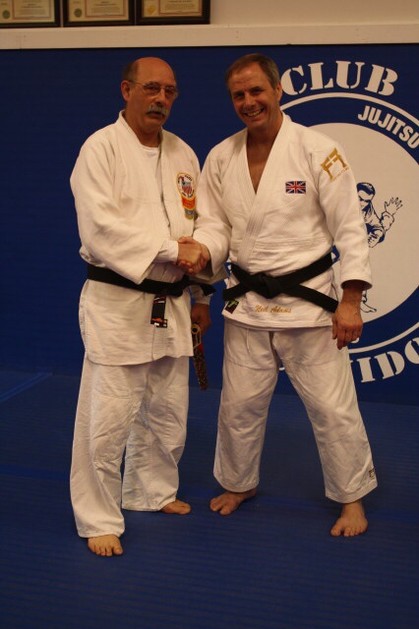 Tom Gustin (left)
My fun is Judo. Here I am Saturday 4-12-014, with Neil Adams from England, the 1980 and 1984 Silver medalist from the Olympics. The second picture is my woodcarving projects. A style of Native American Flutes. All completely hand carved.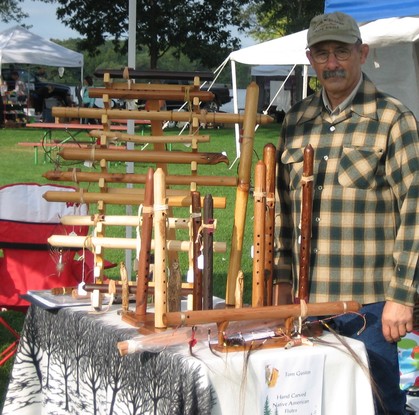 These photos were from the 1964 cheerleading squads. Anyone remember which one of these lovely ladies became the Park Panther mascot the following year?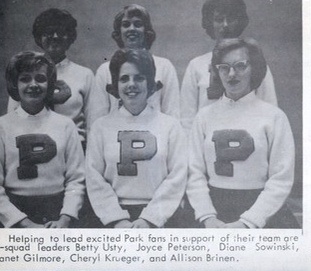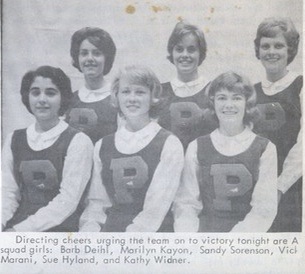 CURRENT MINI REUNIONS
The Weekly Breakfast Guys Group at Dynasty Restaurant, Racine
April 8, 2014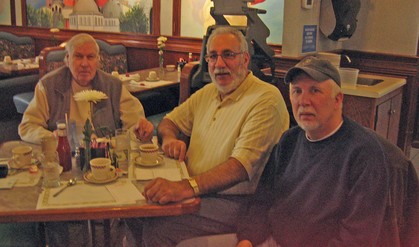 From left: Skip Meekma, Art Rozzoni, Robert Zigas,
soon to be returning Robert Schneider and Brian Peterson
Mini Reunion in South Carolina March, 2014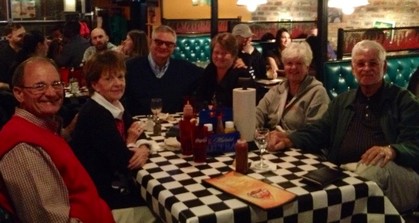 John and Joan Pederson Lesko, Jim Jenkins and Sue Woodford Jenkins, Kathy Sidwell Smullen and George Smullen. Last night Sue and I had dinner with Kathy Sidwell Smullen and her husband George, and Joan Pederson Lesko, and hubby John. We hadn't seen them since we graduated, nearly fifty years ago.
We talked a little about old times and a lot about new times and families and travel, and laughed through it all. It was pretty cool. We met at Joan and John's beautiful home in Bluffton, SC., where Kathy and George were visiting for the night. Despite all the years, it was like no time had passed between us, from the minute John welcomed us at the door, till we said goodnight for the evening, hours later. It was like we were all old friends, catching up after a couple years away. John and George graduated from St. Cats in 1962, and Sue (Woodford) graduated from Park in 1967.
The amazing thing is that none of us had gained an ounce or developed a single wrinkle in almost fifty years!! Disregard the photos... the lighting wasn't great inside One Hot Mama's restaurant. Jim Jenkins.
Bring back some memories?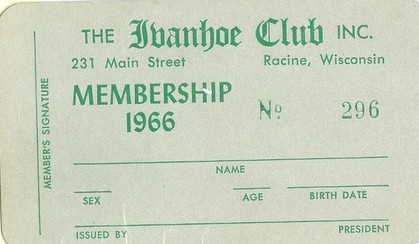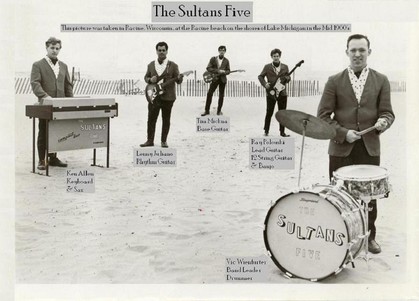 Hope Hansen just sent me some of the items from her Memory Box. Great stuff, Hope. Thanks for sharing. I'll post them from time to time. Dance programs, some Beacon articles, and plenty of graduation stuff. But this card from The Ivanhoe brought back some fun memories. Jim Jenkns has talked about the Y dances that many of us attended on Friday nights during the school year. But the summer, ah the summer was filled with part-time jobs, Zoo beach, and at nights The Spectator Club and later The Ivanhoe. Started up by some guys from St. Cat's and maybe one from Horlick, it was "the place" to go to and be seen. You bought a membership for what maybe $10 and that admitted you all summer. Plenty of music and some nights live bands like The Sultans V! No drugs-heck that wasn't an issue in the early 60's, no alcohol unless someone sneaked something in, but lots of music and lots of dancing. Cool beans that was fun stuff.
Per Joel Sys.........
The Ivanhoe Club was a great place to be, Fridays and Saturdays and three nights a week during school breaks. It was started by Tom "Tiny"Hansen (Horlick Class of 1964) and John "Maynard" Christensen (Park Class of 1964). They ran a tight ship Tom still is in Racine and is the long time owner of Hanson's Bar on Gould Street and John became an executive with the AFL-CIO in Washington, DC. after working at the Massey Ferguson NA Parts Warehouse. Both nice guys. John had somewhat of a checkered past. He was a former Golden Gloves boxer and kind of always lived on the edge. I was connected to the guys primarily through John's sister, Arlene (Park Class of 1966).The competition was the "Nitty Gritty" a block South and on the opposite side of Main Street. I never knew who ran that dance club.
OUR CLASS OF '65 HAS TEN CLASSMATES THAT ARE MEMBERS OF THE PARK HALL OF FAME--CLICK ON PARK HIGH TRIVIA TO SEE WHO THEY ARE
Every now and then I will feature two Hall of Famers, then retire them to the Park High Trivia Page. Information courtesy of Barb Kemnitz Salvo
Ralph (Bud) Francis
Inducted in 2000, Bud was selected for his work in business. At the time of his selection, Bud worked as a professional engineer. His Hall of Fame nomination included the following information:
"Bud is the owner of two companies focusing on consulting and manufacturing. He is the holder of eight patents. Bud designed a photographic system for the detection of cancer. In addition to his work responsibilities, Bud served as the chairman of the GTI Robotics Advisory Council and was active in the Aircraft Owners and Pilots Association and the Experimental Aircraft Association. "
Marilyn Kayon McGoldrick
Inducted in 2001, Marilyn was selected for her work in education. At the time of her selection, Marilyn was the President of St. Catherine's High School in Racine. Her Hall of Fame nomination included the following information:
"As President of SCHS, Marilyn is responsible for all aspects of the school from curriculum and school operations to budget and development work which is "raising friends, funds and freshman" for SCHS. Prior to her position at SCHS, she was in secondary school administration for 14 years. Before becoming an administrator, she taught English for ten years in Racine Unified schools and three years at Gateway Technical Institute. Her last teaching position was at Park High School teaching freshman, sophomores and juniors. Marilyn is active in many local, state and national organizations including RAMAC, Taylor Home Board, Rotary Downtown Club, Wisconsin Association of Curriculum and Development Board and the National Association of Secondary School Principals to name just a few. In 1998, Marilyn received the RAMAC Administrator of the Year award."
Washington Park High Class of 1965 50th Reunion Weekend
SAVE THE DATE: AUGUST 7, 8 AND 9th 2015
We have picked the dates & have reserved the halls for our 50th Reunion. This will be a really fun and memorable weekend—not just a one night stand.
FRIDAY:
Golf outing morning

Johnson Foundation at Wingspread Tour afternoon (FREE) O

riginally was the H.F. Johnson family home

Pizza night at Infusino's
SATURDAY:
SC Johnson Administration Building, Fortaleza Hall, & Research Tower Tour (morning) (FREE)

Dinner at Roma Lodge
SUNDAY:
Tour of Park High with Kringle and Coffee (No Charge)
All of the tours are free!