Washington Park

High School




Class Of 1965
Welcome to the Park High Class Of 1965 website, created to promote our 50th Reunion and help us re-connect with classmates from the Class of 1965. We are open to all suggestions and as is life, this is a work in progress, so stop back often.
Make sure you scroll to the bottom of the page. New things are added weekly.
Reunion TeeShirt What do you think? Like it or not? Any profits could go to Scholarship Fund. email Don Piggins at drpiggins@gmail.com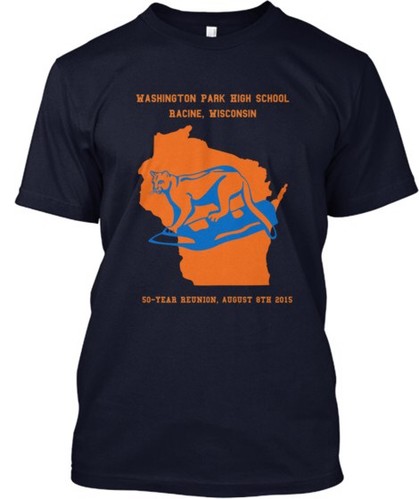 *****************************************************************************
Another classmate might need a note of cheer. Kathe Lange Kexel is in need of a lung transplant her daughter writes. "After enjoying many years of good health, Kathe's life was turned upside down 3 years ago when she was diagnosed with Idiopathic Pulmonary Fibrosis. IPF is a terminal disease with a 3 -5 year prognosis from the time of diagnosis, with no known cure or effective treatment options. Her condition has steadily declined and she is now on oxygen 24/7. We are not ready to give up this fight, and her only option for survival is a lung transplant. Thanks to the incredible Lung Transplant team at Duke University Hospital, we now have hope for Kathe's future." Reach Kathe through her profile or there is a site on Facebook called New Lungs for Kathe which details how to make a contribution if you choose. Their goal is to reach $25,000 soon as Kathe has been given a prognosis of about a year. Almost $5000 raised ths week.
Per Mike Holland: My close friend Brian Peterson was just recently diagnosed with MDS (myelodysplastic syndrome), a bone marrow disease. The blood test results indicate that he is just borderline for having acute leukemia. He will eventually need a bone marrow transplant once the chemotherapy has been completed. Right now this is the only cure for MDS.
I know that this surely isn't the typical lighthearted interaction that makes this site so enjoyable to connect with. If anyone feels that they would like to send Brian a personal note or just wish him well I think that would do a great deal for his spirits at this point.
You can reach Brian several ways. Go to his Profile and post a message to share with all of us or send a private message to him. Or send a note or card to: 3508 97th St. Sturtevant, WI 53177
*******************************************************
Countdown to the Reunion
As you can see from our Countdown Timer, we are under 380 days to our Big Reunion. Before you know it, it will be time to fill out your registration forms. We plan to send, email and website the registration forms in mid-February or so. We have had a huge response and interest so don't delay on returning those forms quickly. Some venues might need to have an attendance cap. Anyone who has indicated they will be attending the golf outing or either of the evening events will have a priority for a limited time. So if you have not yet indicated an interest in the Golf Outing at Meadowbrook on August 7th, or hope to attend Friday and/or Saturday nights fun times please just email me and I will add your names to the list.
ksmirish@gmail.com
********************************************
Don Piggins has sent photos of past and current interests. Please scroll down below the Reunion information to view the terrific photos he has sent in. Thanks to all of you who are sharing your interests. It makes this site all the better.
***************************************************
From Don Piggins--What I've Seen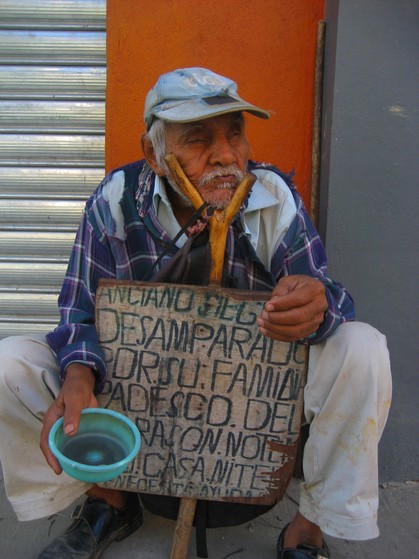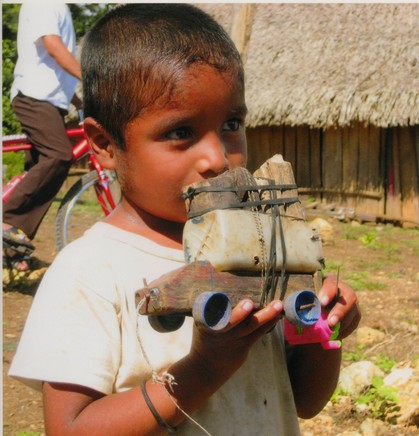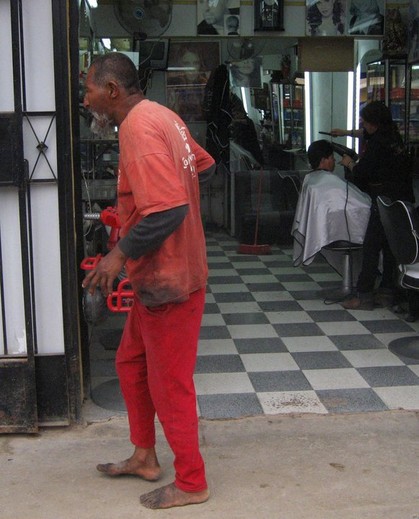 *******************************************
From Don Piggins: currently accompanied Rikki Maragos to a Greek family wedding in Detroit.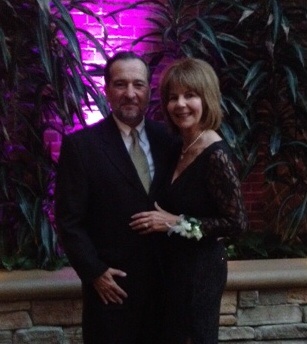 *****************************************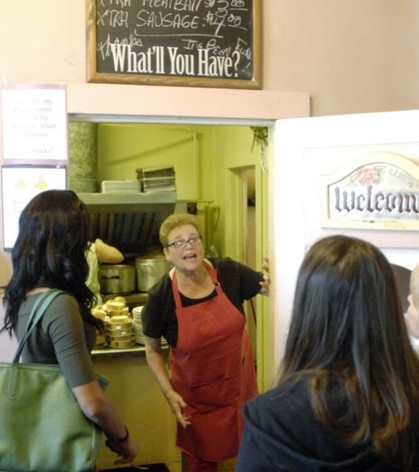 Trudy Rozzoni working her last day Totero's Restaurant on Mead St. Totero's, a Racine institution closed after being a destination in Racine for 39 years. The last plate of Lasagne was auctioned for $200!
***********************************************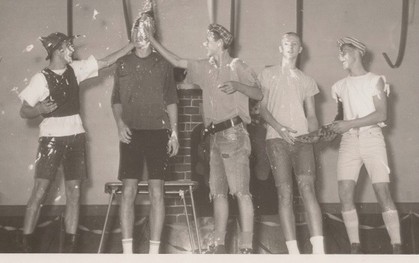 According to John Weibel, we can blame it all on a sociology class assignment. The end result was Rocky Falaschi, John Weibel, Skip Meekma, Mike Snyder and Al Singstock wowing the kids at Southern Colony with a skit that involved plenty of smooth moves and, yes, singing.
*********************************************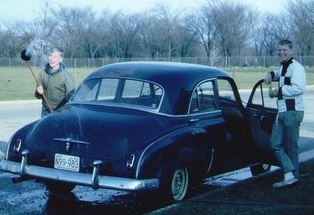 Mark Krogh and Al Singstock vintage photo.
********************************************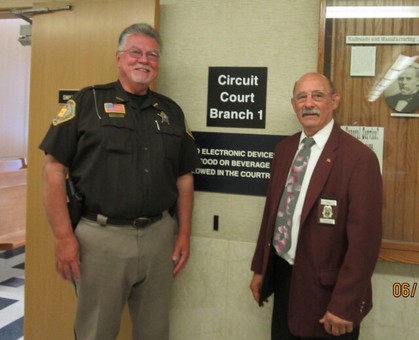 Sheriff John Charewicz and Bailiff Tom Gustin in a rare appearance working together at court.
******************************************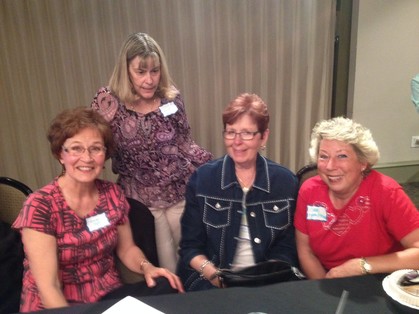 Marilyn Kayon, Sheila Dermody, Diane Kaestner & Carol Tyree discussing decorations for Saturday night.
On May 20th about 24 of our classmates met in Racine to continue planning the Reunion. What a great group this has been to work with. We are hoping to make this one weekend to remember, with something fun for everyone. Here is the latest and greatest:
Friday Golf Outing will be held at Meadowbrook. Tee-off at 8:00. 33 currently interested. $32.50/person includes cart
Friday Tour of The Johnson Foundation at Wingspread 1:30-3:30 NO CHARGE
Friday Infusino's Pizza Night 6:00-11:00 Pizza, Salad, Soda $15/person 50/50 Raffle for Scholarship Fund Almost 200 people have indicated they will be attending. Wow! Maybe a few former teachers might pop up too.
Saturday SCJ Campus Tour 9:15-12:30 Movie, Admin Bldg, Fortaleza Hall, newly opened Research Tower NO CHARGE
Saturday Roma Lodge Dinner 5:30-11:30 Dinner, Short Program, Auction and 50/50 Raffle for Scholarship Fund, a Live Band, the Doo Wop Daddies. Photographer Skip Simonsen taking candid photos from Friday and Saturday nights (mailed to you in a CD format) and Class Directory included with this fee. $50/person includes everything! Over 200 people have indicated that they will attend this big event.
Sunday Park High Tour 10:00 NO CHARGE Kringle, coffee, juice
********************************************************************
CURRENT MINI REUNIONS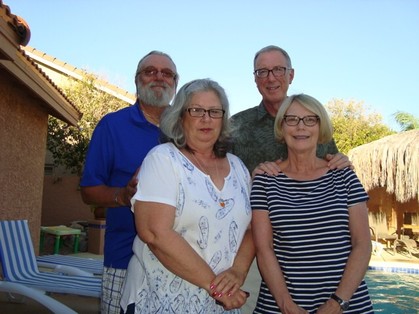 Jim and Linda Christoff hosted John and Jo Ann Weibel in Tempe, AZ at a cook out. These classmates hadn't seen each other in 35 years! May 31st. Lots of smiles
**************************************************************
SCJ OPENS RESEARCH TOWER TO TOURS (our tour is Saturday morning).
RACINE — The Frank Lloyd Wright-designed SC Johnson Research Tower opened Friday to public tours and strong reviews.
For 32 years the tower, on the headquarters campus of SCJ at 1525 Howe St., was used by company scientists who invented such household products as Raid, Glade, Pledge and Off.
The tower, on the National Register of Historic Places, consists of alternating squarish floors and cantilevered round mezzanines. Each mezzanine is open to the floor below it to allow scientists to communicate more easily. Wright coined the term "taproot" to describe the unique foundation to his design.
Two floors of the 153-foot-tall tower have been set up much as it would have been in the 1950s. Along the countertops are flasks, beakers and test tubes; a centrifuge; molecular models; vials of colored liquids and jars of brightly colored crystals; an old journal; and much more.
Those items are accompanied by vintage SCJ ads from magazines and one playing on a TV screen.
****************************************************************
Class of '65
What are some reasons nobody forgets their high school years? This was the place we grew up. This was the place where we were safe. This was the ground where the seeds of later-life got sowed. These were the people who were the friends upon which we learned who we were, and who we would become. These people were the teachers of all the really important lessons of living and of life. To forget your high school years is to lose a major part of you. It isn't over, of course; we are only 66 or 67. The members of our class, they teach us now of the importance of holding life in reverence. They teach us the critical importance of enjoying the moment and living well in it.
So in this vein I thought it might be fun, interesting, or just plain weird to see what we are doing in retirement. Photography, water colors, quilting, woodworking, car restoration, biking, carving, model trains, writing poetry, pottery, gardening, volunteer work, etc. Just email me a photo and I will place a few each week on this page.
ksmirish@gmail.com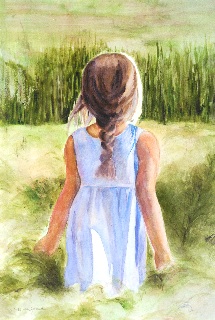 Watercolors done by Marilyn Kayon McGoldrick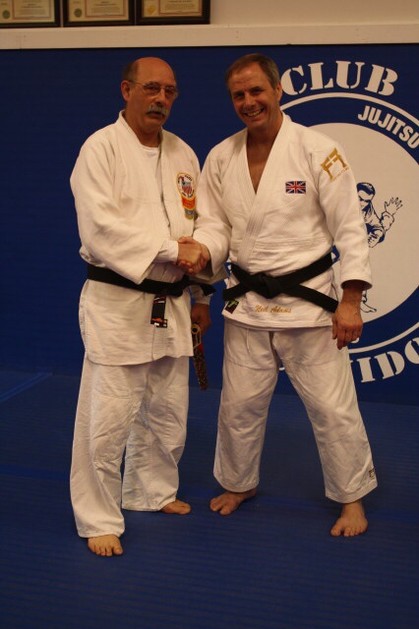 Tom Gustin (left)
My fun is Judo. Here I am Saturday 4-12-014, with Neil Adams from England, the 1980 and 1984 Silver medalist from the Olympics. The second picture is my woodcarving projects. A style of Native American Flutes. All completely hand carved.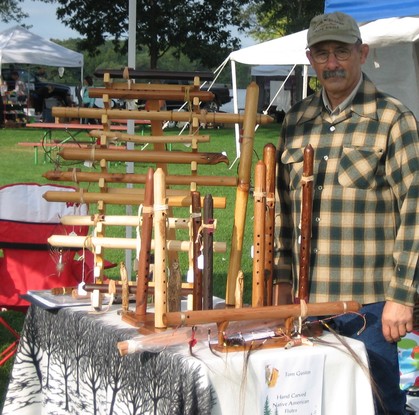 Jim Hunnicutt keeps very busy with his garden railroad that fills his backyard. Currently there is almost 850 feet of track on which five separate lines run. Four of the lines are continuous loop lines and the fifth is a point to point trolley line. The four main tracks are all controlled with the AristoCraft Train Engineer and the trolley line is controlled with a 10 amp MRC controller.
Fifteen tons of assorted rock make up the "Rocky" part of our railroad. Much of it is exposed as decorative elements and landscaping and the other is used as construction material. Kevin is the gardener and the railroad is planted with over five hundred miniature trees, ground covers and bulb stock. All plants are labeled for identification. There are five small "lakes" and two waterfalls in the layout as well.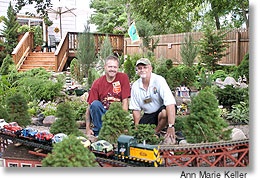 ******************************************************
These photos were from the 1964 cheerleading squads. Anyone remember which one of these lovely ladies became the Park Panther mascot the following year? Anyone besides Skip Meekma guess Cheri Krueger?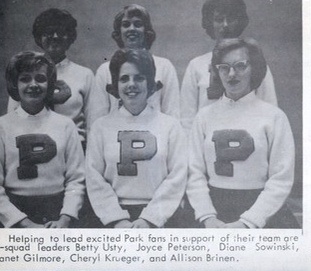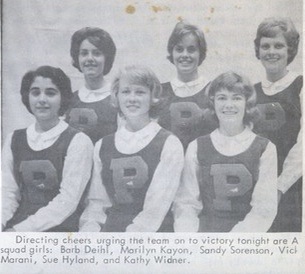 **************************************************************************
Bring back some memories?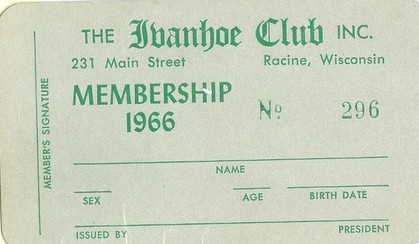 Hope Hansen just sent me some of the items from her Memory Box. Great stuff, Hope. Thanks for sharing. I'll post them from time to time. Dance programs, some Beacon articles, and plenty of graduation stuff. But this card from The Ivanhoe brought back some fun memories. Jim Jenkns has talked about the Y dances that many of us attended on Friday nights during the school year. But the summer, ah the summer was filled with part-time jobs, Zoo beach, and at nights The Spectator Club and later The Ivanhoe. Started up by some guys from St. Cat's and maybe one from Horlick, it was "the place" to go to and be seen. You bought a membership for what maybe $10 and that admitted you all summer. Plenty of music and some nights live bands like The Sultans V! No drugs-heck that wasn't an issue in the early 60's, no alcohol unless someone sneaked something in, but lots of music and lots of dancing. Cool beans that was fun stuff.
Per Joel Sys.........
The Ivanhoe Club was a great place to be, Fridays and Saturdays and three nights a week during school breaks. It was started by Tom "Tiny"Hansen (Horlick Class of 1964) and John "Maynard" Christensen (Park Class of 1964). They ran a tight ship Tom still is in Racine and is the long time owner of Hanson's Bar on Gould Street and John became an executive with the AFL-CIO in Washington, DC. after working at the Massey Ferguson NA Parts Warehouse. Both nice guys. John had somewhat of a checkered past. He was a former Golden Gloves boxer and kind of always lived on the edge. I was connected to the guys primarily through John's sister, Arlene (Park Class of 1966).The competition was the "Nitty Gritty" a block South and on the opposite side of Main Street. I never knew who ran that dance club.
****************************************************
OUR CLASS OF '65 HAS TEN CLASSMATES THAT ARE MEMBERS OF THE PARK HALL OF FAME--CLICK ON PARK HIGH TRIVIA TO SEE WHO THEY ARE
Washington Park High Class of 1965 50th Reunion Weekend
SAVE THE DATE: AUGUST 7, 8 AND 9th 2015
We have picked the dates & have reserved the halls for our 50th Reunion. This will be a really fun and memorable weekend—not just a one night stand.
FRIDAY:
Golf outing morning Meadowbrook $32.50 with cart

1:30-3:30 Johnson Foundation at Wingspread Tour afternoon (FREE) O

riginally was the H.F. Johnson family home

6:00-11:00 Pizza night at Infusino's $15/person pizza, salad, soda
SATURDAY:
9:15-noon SC Johnson Administration Building, Fortaleza Hall, & Research Tower Tour (morning) (FREE)

5:30-midnight Dinner at Roma Lodge $50/person

Featuring the LIVE BAND Doo Wop Daddies from Milwaukee area
SUNDAY:
10:00 Tour of Park High with Kringle and Coffee (No Charge)
All of the tours are free!