Washington Park

High School




Class Of 1965
Welcome to the Park High Class Of 1965 website.
50th Reunion August 2015---over and done
70th Birthday Party upcoming!
******
LAST organized PANTHER BRUNCH UNTIL AFTER LABOR DAY will be JUNE 21st. Details will follow.....
********
ONLY 33 days to go! Don't miss the fun! Still room for golfers at Petrifying Springs on July 27th 8:30 tee off and Billiards players on June 26th at 10:00. Email Dave at dlminnie12@yahoo.com
SCHOLARSHIP NEWS!
To date we have received one full Scholarship Renewal, Additional donations of $50, $120, $500 and $1000. Thank you!!! Send your check by June 30th so we can announce the recipients after the 4th of July.
Park High School 1965
to Chuck Carothers
3080 Southern Hills Dr
Wadsworth, IL 60083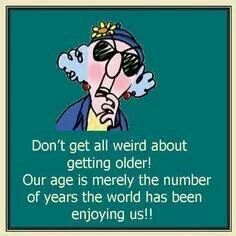 Park High Class of '65 70th Birthday Bike Tour, starting at the southeast corner of the Racine Zoo. Park in the public lot at the corner of Goold and Michigan Blvd.
We will take a flat, scenic nine mile loop that will be geared for congenial recreational riding, not the spandex and carbon-fiber set. Our tour will take us north along the lake, eventually reaching the Wind Point Lighthouse. We will stop for a rest and refreshment at Francie McQuire Winkler's house, which is on the route. Route will be on quiet streets and bike trails.
-If you have already signed up for the Birthday Bash but have not signed up for biking, sign up for biking by emailing me at jgjenkins5266@yahoo.com. or calling me at 608-516-2912.
*********
Get those registrations in the mail today! Deadline extended to July 7th! Need a registration form?
ksmirish@gmail.com
To see who is attending each event, click on that link on the left sidebar. Updated each Friday night. Join the fun! We aren't getting any younger!🎉💥
No one will be turned away. If you need to wait longer than July 7th, please email Dave at dlminnie12@yahoo.com
70 never looked so good!
*****
Panther Brunch group June 7th, 2017
Celebrating Carol Tyree and Paul Dorsey Birthdays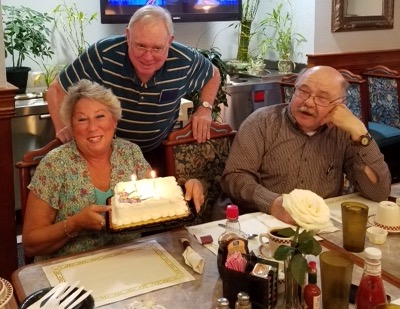 The LAST Panther Brunch UNTIL AFTER LABOR DAY will be Wednesday, June 7th, 10:30 a.m. at The Dynasty. Notify Skip Meekma by noon Tuesday, June 6th if you plan to attend. 262-633-7019 skipcindy2@gmail.com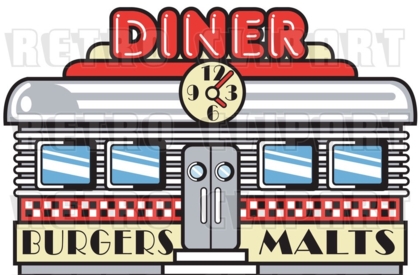 *************
🎈🎉🎂70 never looked so good!🎂🎉🎈
Join us on July 26-28 to celebrate with classmates the big event. The committee has made this a three-day party with lots of fun things to do! Come join us for a great time. Visit website www.washingtonparkhigh1965.com
WEDNESDAY JULY 26
Billiards-- 10:00 AM 🎱🎱🎱 Break and Run Billiards. 2037 Lathrop Avenue Behind Buckets Pub. Polish your cue stick.
Racine Heritage Museum--11:00 ☎️💡📚 701 Main Street Housed in the old Racine Library is a historical look at the unique inventions and innovations that have put Racine, WI on the map. Oster Manufacturing, Hamilton Beach, Insinkerator, Western Printing Golden Books, SC Johnson, Horlick's Malted Milk, just to name a few. Hometown pride celebrates many of the fine athletes from the area in the Racine County Sports Hall of Fame. No charge.

The Waterfront at Brown's Lake—4:00 31100 Weller Road, Burlington
Remember Post Prom? Same place! Pontoon boat rides around Brown's Lake, pizza (Brusha's famous recipe), antipasto salad, garlic bread, Bean Bag Toss, decks of cards and Racine's famous Kringle.
Bean Bags/Boards- There will be 2 sets of boards with Park High Logos. One set will be awarded at the end of the night to a lucky classmate.
Music from the 50's and 60's will tease any of you who want to get up and dance....on the patio, on the lawn, on the pier, on the boats, on the tables, anywhere you feel like! A cash bar open for those who think a drink might make them a better dancer. $25/person 👣💃💃👣
THURSDAY JULY 27th
Golf outing Petrifying Springs 409 7th St, Kenosha 8:30 tee off $25 for nine; $40 for 18🏌🏌⛳️
Bike Tour--Morning at 9:00 🚴🏾 Meet at the Zoo 2131 N Main Street
Three different tours for the biking crowd. All will head out from the Racine Zoo where there is safe parking along the streets.
Tour 1-- Wind Point past Light House. Mostly on the bike trail, but near the lighthouse, the tour will navigate the roadway. Return to Zoo. 10 miles
Tour 2 -- This tour follows the Root River Parkway trail. 10 miles
Tour 3 -- Travel along the lakefront downtown, return to the Zoo. 5 miles
The Reefpoint Brew House--5:00. 2 Christopher Columbus Causeway🎉
Class party at the Reefpoint Brew House 5:00pm until ?? located in downtown Racine overlooking the stunning views of Lake Michigan. The Reefpoint features over 60 varieties of beer--who wants to sample ALL of them? Your choice, it's a cash bar. We will have a private room and the beautiful patio by the water where dozens of boats are docked. There will be a huge selection of Hors D'oeuvre's & Appetizers to munch on while we mingle and chat with old friends. And there will be Birthday CAKE, featuring Danish Layer cake, but also other favorites. Try one or try 'em all.
We can dance from the minute we walk into the Brew House until they kick us out the door, until we pass out or sprain something! Yikes! There will be 60's music all night bringing back some great memories. $30/person 💃💃💃💃
FRIDAY, JULY 28th
O&H Bakery Presentation--11:00 🍩🍩🍩 5910 Washington Avenue
One of the birthday events will be linked to a significant part of Racine history. Eric Oleson is the president of O&H Bakery which recently opened their huge facility on Washington Avenue. Although we will not be able to tour the actual baking area, it sounds like a great opportunity to partake in Racine history. Mark your calendar for Friday, July 28, 2017. No charge.
Wind Point Lighthouse Tour--1:30. 🗼 4725 Lighthouse Dr, Wind Point
Private tour of the grounds and opportunity for a tower climb if you dare. Amazing chance to visit this much-photographed highlight of Racine. $10/person
Roma Lodge Italian Festival--5:00 🍺🍕🍔🌭🍦Waterfront at 5th Street
We have the Green Room reserved so we have our own spot to meet up with classmates. Great Italian food, plenty of beer and music. Chance meetings for all of you out-of-towners with old friends from other classes and schools. And our 70th birthday party concludes with this huge event.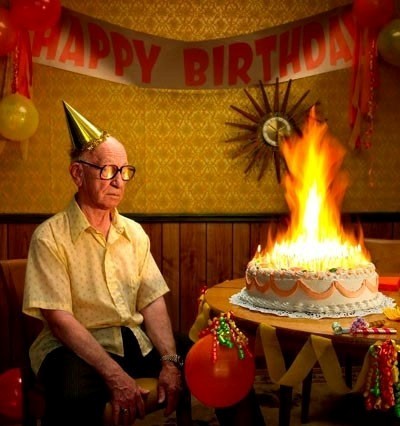 ******
There is a new link on the left column, Scholarship Stories. This features the ten recipients of the Class of '65 Scholarships. There is a photo, short bio and their thank you note. $19,650 total dispersed. Way to go!
************
Check out this link recommended by Rich Nutt and John Weibel
http://safeshare.tv/w/FEDEwZHZXu
Great presentation and the music is superb.
Click Select on the link, copy then paste in your browser
*************
Final Tally
for the Class of '65 Scholarship Fund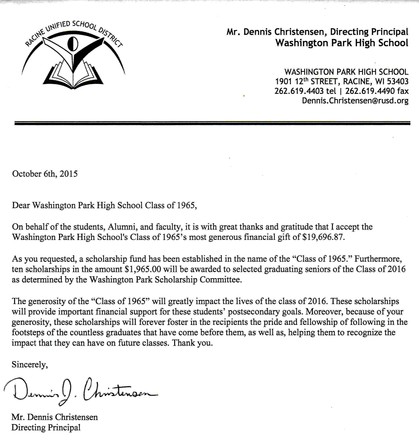 *******************
The following photos from the Park Tour on Sunday, complements of Ace photographer Dennis Treu. Thanks, Dennis!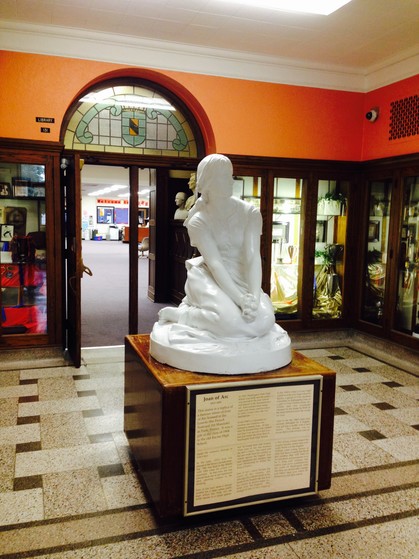 Everyone is still greeted by Joan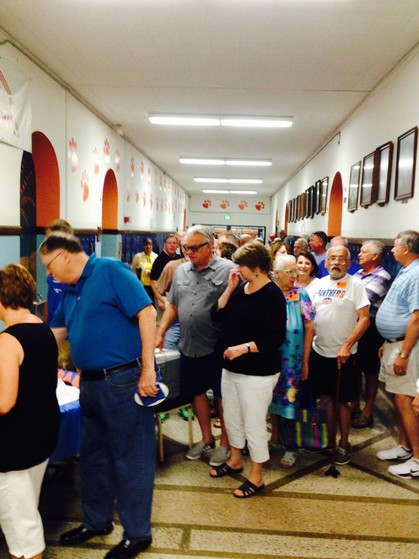 Sunday morning Park Tour Remember some of these good lookin' classmates?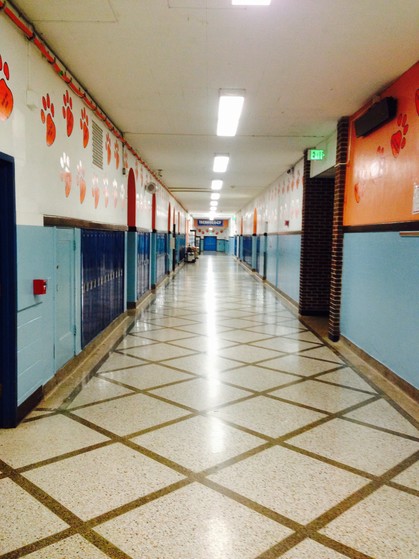 Bring back some great memories? Who was your locker buddy? Mine was Lynda Zamagni!
***************
The FINAL REUNION WRAP-UP, following the Wednesday, September 2nd Committee meeting
Wednesday, September 2nd, 21 members of our planning committee met once
again at The Summit restaurant for a final wrap-up. So did we make seven scholarships? Yes! Did we make eight scholarships? Yes! Did we make nine
scholarships? Yes, but in fact we will award TEN SCHOLARSHIPS of
$1965 each. We, the committee, thanks everyone who
contributed in any way to this monumental achievement. So here is the breakdown
$4225--Rounding up our registration fees
$4570--Auction--includes $1965 football bids by Ken Bengtson
$670--50/50
$5590 scholarship donations during and post reunion including $1965 each
from Dick Hobbs and Peter Kirkegaard
$3900 from the 50th($900+) and 40th ($2900) reunions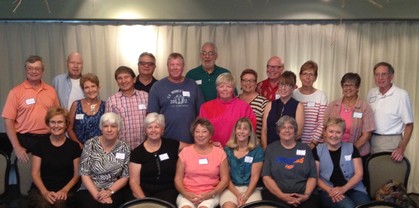 OUR PLANNING COMMITTEE
The Best 50th Reunion Ever is in the rear-view mirror.
It was fun; it was spectacular; it was fabulous.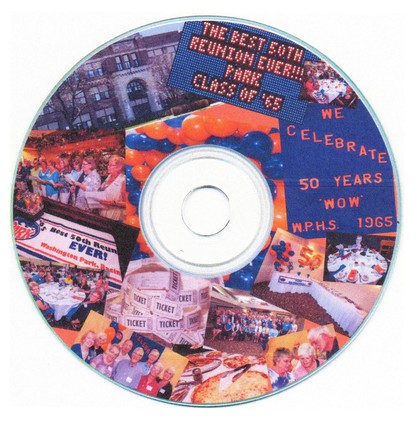 Some of our former teachers who joined us at Infusino's on Friday night. Catch this photo in the JT September 25th.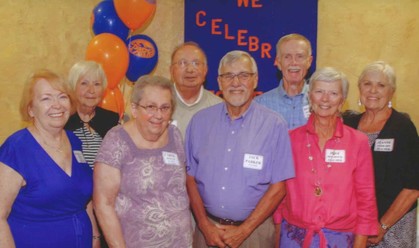 Bottom Row: Ruth Ann Baumann, Carol Hatch, Jack Parker, Jane Holroyd
Top Row: Paula Von Scheidt, Ron Gardina, Robert Holroyd, Jeanne Ferraro
Thank you to these great teachers for coming to the Friday pizza party.
**********************
World Class (of '65) Reunion Weekend
You can now find all of Jim's stories on the left link--Jim Jenkins' Stories. Jim has promised more down the road. So stay tuned.