Washington Park

High School




Class Of 1965
Welcome to the Park High Class Of 1965 website.
Reunion dates were

AUGUST 7th, 8th and 9th 2015
*****
Saturday, August 20th, classmate and friend, Paul W Lowry III passed away. If you care to post a remark or a story, please go to the In Memory link.
****************
THE SURVEY FOR THE 70th PARTY EVENTS IS ACTIVE
Please help us SELECT the events for next July with your input by clicking on the Survey located at the top of the left column. This is not a commitment to attend. Please complete by Labor Day! Thanks
70 never looked so good!
A word from Dave Manchester: "Paul (Dorsey) & I went to Italianfest Friday night, and I haven't had so much fun since our reunion. It was a riot! I saw so many people I haven't seen in years, and Artie (Rozzoni) kept us well supplied with all the beer we could handle. Absolutely had a riot. As a bonus I got to dance with my 7 & 10 yr. old granddaughters, and I didn't know they were going to be there! Fun. The kicker was the Park High class of 1956 was celebrating their 60th reunion...there in the green room. I think next year this will be a perfect ending to our birthday party. Italianfest was a GREAT idea!"
***********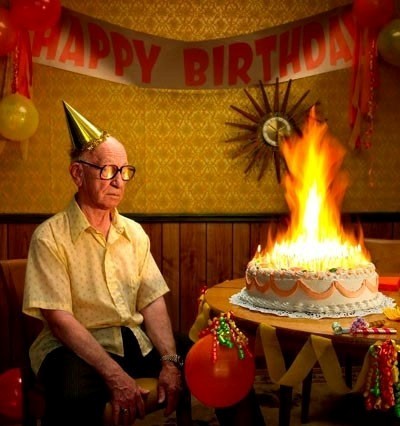 LOOK WHO'S TURNING 70 IN 2016
DIANE KEATON--January 5
CHER--May 20
SYLVESTER STALLONE--July 6
BILL CLINTON--August 19
SUZANNE SOMERS--October 16
STEVEN SPIELBERG--December 18
**************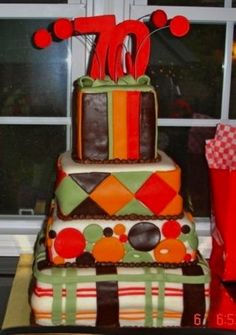 PANTHER BRUNCH WILL TAKE A SUMMER BREAK UNTIL WEDNESDAY, SEPTEMBER 7TH AFTER LABOR DAY. SKIP WILL CONTACT THE GROUP
*******
TIME TO UPDATE YOUR PROFILES
PLEASE MAKE SURE YOUR CONTACT INFORMATION IS COMPLETE. UPDATE ADDRESS, PHONE AND ESPECIALLY EMAIL
How to do this? Go to Member Functions located on the left SideBar. Click Edit Contact Info. Don't forget to save your changes.
***************
CLASS OF '65---70th BIRTHDAY CELEBRATION
70 NEVER LOOKED SO GOOD
The party from August, 2015 continues. Our committee of party planners have been hard at it and have an exciting agenda planned for Wednesday, July 26- Friday, July 28th 2017
Wednesday afternoon party at Brown's Lake at The Waterfront. 3:00-?????? Pontoon boat rides, Pizza and Music on the patio, and of course Birthday Cake. Casual with lots of room to mingle and catch up wth old friends. Good times on Brown's Lake.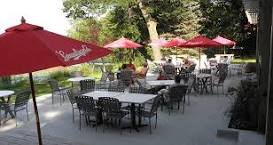 Thursday morning golf at Petrifying Springs.
Thursday evening party at the Reefpoint Brew House on beautiful Lake Michigan in downtown Racine. 5:00-?????? Heavy appetizers and lots of them, Music, and of course more Birthday Cake. Casual, no reserved seating and more mingling and getting reacquainted. Patio and outside bar.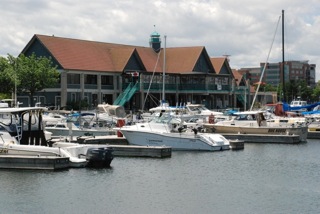 Friday morning group bike ride. Possible Lake Michigan charter fishing trip, billiard tournament and O&H Tour. All in the works.
Friday late afternoon join the folks of Racine at Italian Fest. Our class has a reserved meeting space at the Green Room where there will be even more Birthday Cake! Enjoy Italian goodies from Roma Lodge and meet up with Park High classmates from other classes attending this annual Racine highlighted event.
Hotel arrangements and more events are in the works, all suggestions are welcome. For instance Pete Winnen suggested a charter fishing trip on Lake Michgan.
Dave Manchester dlminnie12@yahoo.com
Paul Dorsey pauldorsey47@hotmail.com
****************
There is a new link on the left column, Scholarship Stories. This features the ten recipients of the Class of '65 Scholarships. There is a photo, short bio and their thank you note. $19,650 total dispersed. Way to go!
**************
News Flash News Flash News Flash
It's official. The leadership baton has been handed over to Chuck Carothers, Paul Dorsey, Jim Jenkins and Dave Manchester. Paul and Dave are co-chairmen. If you were unable to attend the 50th reunion, here's a second chance. Email
Paul Dorsey pdorsey47@hotmail.com
Dave Manchester dlminnie12@yahoo.com
**************
NEXT PANTHER BRUNCH--Wednesday, July 20th at 10:30 at the Dynasty Restaurant 2427 Lathrop Ave
Call Skip, he is having computer problems, 262-633-7019 no later than Tuesday, July 19th noon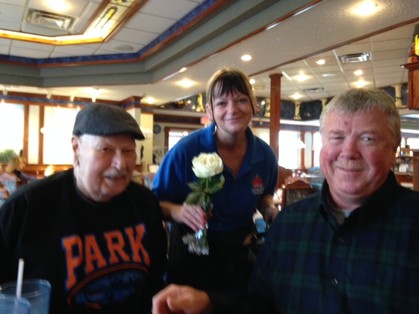 our fearless Panther Brunch leader Skip Meekma with classmate Dave Manchester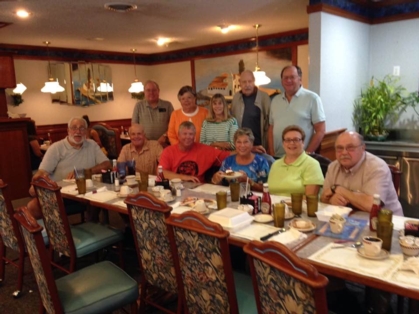 *********************
Lost in the Fifties Tonight by Ronnie Milsap
Check out this link recommended by Rich Nutt and John Weibel
http://safeshare.tv/w/FEDEwZHZXu
Great presentation and the music is superb.
Click Select on the link, copy then paste in your browser
********************
HOLIDAY MARKET AT KOHLER
shopping with Class of '65 classmates
top row Pat Georgeson, Lynda Zamagni, Carol Tyree, Linda Campeau
bottom row Jonnie Rasmussen, Diane Kaestner, Karen Yurk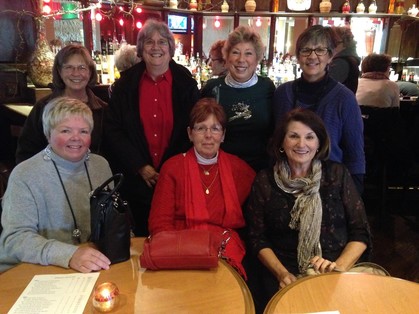 *************
PARK-HORLICK FOOTBALL RIVALRY
Did you know that the Park-Horlick football rivalry goes way back to 1928, when the first game ended in a 0-0 tie. It is the second oldest high school rivalry in the state, second only to Green Bay East vs Green Bay West which dates back to 1904. Since the inception, Park leads the series 52-31-6. In 1943 and in 2008 the schools played each other twice. In 1963, when we were Juniors, Park was victorious 23-20. In 1964, as Seniors, Park and Horlick ended the game with a 20-20 tie. This year the game is the last of the season on Friday, October 16th. Doesn't look so good. Park is 0-4 and Horlick is 3-2.
This year's score Horlick 40 Park 7 Maybe next year???
**************
Final Tally
for the Class of '65 Scholarship Fund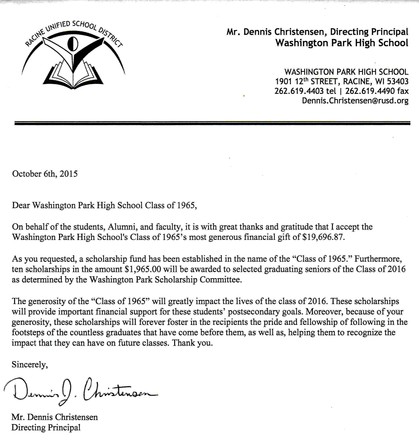 *******************
The following photos from the Park Tour on Sinday, complements of Ace photographer Dennis Treu. Thanks, Dennis!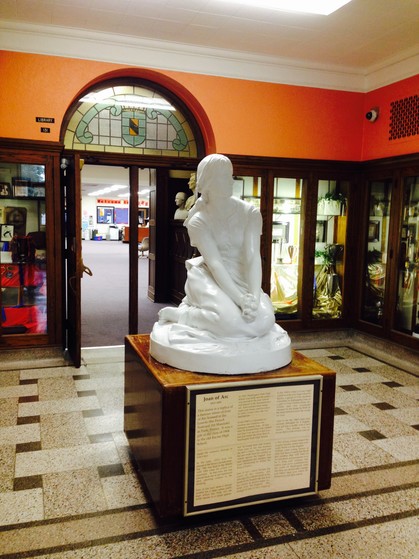 Everyone is still greeted by Joan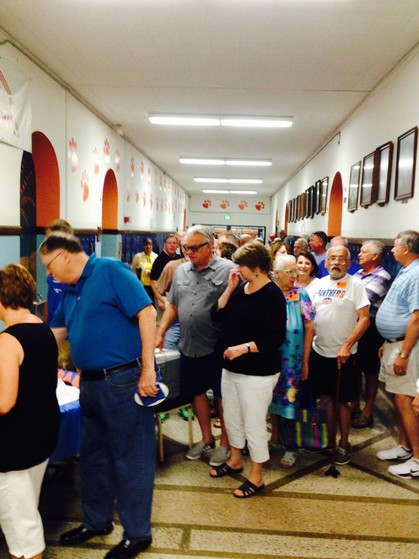 Sunday morning Park Tour Remember some of these good lookin' classmates?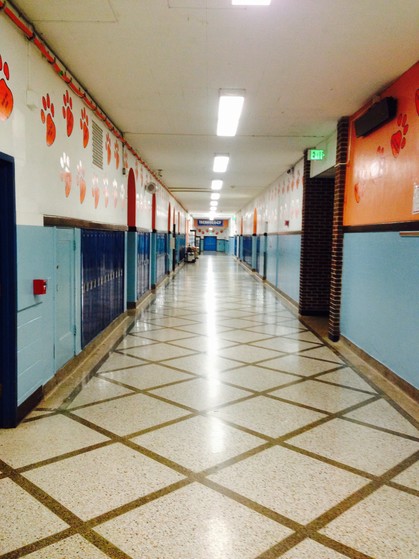 Bring back some great memories? Who was your locker buddy? Mine was Lynda Zamagni!
***************
The FINAL REUNION WRAP-UP, following the Wednesday, September 2nd Committee meeting
Wednesday, September 2nd, 21 members of our planning committee met once
again at The Summit restaurant for a final wrap-up. So did we make seven scholarships? Yes! Did we make eight scholarships? Yes! Did we make nine
scholarships? Yes, but in fact we will award TEN SCHOLARSHIPS of
$1965 each. We, the committee, thanks everyone who
contributed in any way to this monumental achievement. So here is the breakdown
$4225--Rounding up our registration fees
$4570--Auction--includes $1965 football bids by Ken Bengtson
$670--50/50
$5590 scholarship donations during and post reunion including $1965 each
from Dick Hobbs and Peter Kirkegaard
$3900 from the 50th($900+) and 40th ($2900) reunions
With so many classmates suggesting a 70th birthday party, we will meet next spring/summer to see if we can make that happen. More details then, but we are hoping to coordinate with that great band, The Doo-Wop Daddies!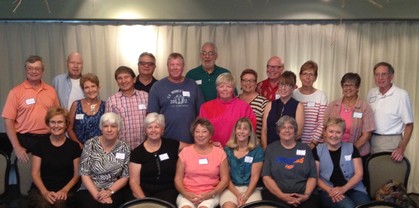 ************
The Best 50th Reunion Ever is in the rear-view mirror. It was fun; it was spectacular; it was fabulous. The photo CD's for those attending Saturday evening festivities at Roma were mailed before Labor Day weekend. If you have not received it yet, please let Bill or Kathy know.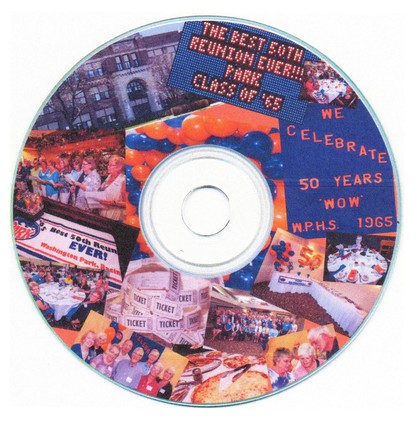 Some of our former teachers who joined us at Infusino's on Friday night. Catch this photo in the JT September 25th.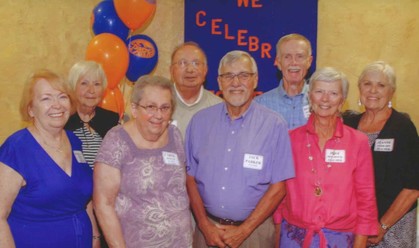 Bottom Row: Ruth Ann Baumann, Carol Hatch, Jack Parker, Jane Holroyd
Top Row: Paula Von Scheidt, Ron Gardina, Robert Holroyd, Jeanne Ferraro
Thank you to these great teachers for coming to the Friday pizza party.
**********************
World Class (of '65) Reunion Weekend
You can now find all of Jim's stories on the left link--Jim Jenkins' Stories. Jim has promised more down the road. So stay tuned.
ANNOUNCEMENTS
Attention 65 classmates. If anyone is interested in viewing our garden railroad, maybe for the last time, we will be running trains Sat. July 09 as part of The Best Garden Walk tour of all time. You start at the Vernon Lutheran Church in the town of Vernon. There for $8 measly dollars you get a map and can tour 4 gardens in the Mukwonago area. A portion of the proceeds go to the Mukwonago Food Pantry Resource Center, so you see, it goes to a great cause. The hours are 10am til 4pm. You can tour at your leasure. Kevin will be displaying some his fantastic fused glass right in the gardens amidst plants and flowers. I will be displaying some of my floral watercolors as well. Weather men are calling for bright sunshine with temps. in the 70's. (Knock on wood) so there are no excuses for not seeing "The Rocky Lights Railroad" maybe for the last time!