Washington Park

High School




Class Of 1965
Welcome to the Park High Class Of 1965 website, created to promote our 50th Reunion and help us re-connect with classmates from the Class of 1965. Reunion dates were

AUGUST 7th, 8th and 9th
REMEMBER! Next Saturday Open House at Jim Hunnicutt's Garden Railroad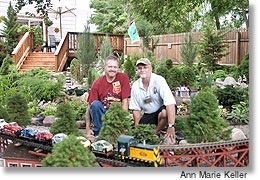 Saturday, September 5th noon-4:00pm for the Class of '65
please RSVP jimhunni@hotmail.com or 262-363-7189
***************
STAY TUNED FOR FINAL REUNION WRAP-UP, following the Wednesday, September 2nd Committee meeting
************
Three weeks past the Best 50th Reunion Ever. It was fun; it was spectacular; it was fabulous. The photo CD's for those attending Saturday evening festivities at Roma will be mailed out by Labor Day weekend.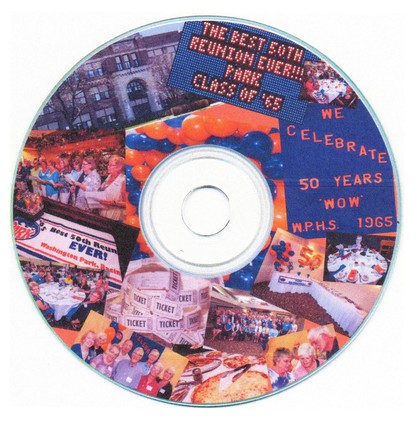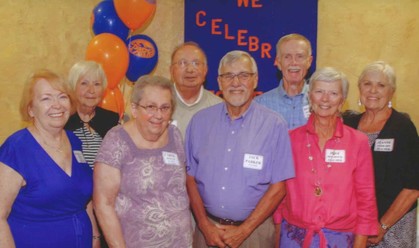 Bottom Row: Ruth Ann Baumann, Carol Hatch, Jack Parker, Jane Holroyd
Top Row: Paula Von Scheidt, Art Gardina, Robert Holroyd, Jeanne Ferraro
Thank you to these great teachers for coming to the Friday pizza party
We will also send out via email, a list of the attendees Identified by table name and number. Should help with identification. The final planning committee meeting is Wednesday, September 2nd. Shortly after that meeting we will announce the final total scholarship number. Looks like there will be seven $1965 scholarships awarded next May. Thank you to all of those classmates that contributed by donation, purchasing raffle tickets, having a winning bid on an auction item, donating an item for the auction or simply attending Friday and Saturday night reunion events.
**********************
World Class (of '65) Reunion Weekend
By Jim Jenkins
Hi everybody. A lot has been said about the reunion, but I'm going to give it my slant, by describing my very personal view of it. Sue and I did everything, from the Thursday mixer at Buckets to the Hunnicutt garden railway tour Sunday, so we had a pretty good vantage point.
BUCKETS PUB
Thursday we arrived at Buckets after a long drive in heavy traffic. We went right to the pub, tired, hungry and thirsty. We walked into the party room and it was just too much. All we saw was a roomful of anonymous geezers!
We didn't recognize anybody. Might as well have been at the Horlick—or Grand Rapids MI—class of '65 reunion! We were about to slink out to watch the Republican debate when Chuck Carothers (who looks remarkably un-geezerish) stepped up to the bar and said hi. That broke the ice and we were ready to jump in. So glad we did.
I spotted a few folks I knew already, from the organizational meetings, and pretty soon we were renewing all sorts of old friendships. We weren't anonymous geezers anymore, we were actual people!Everybody in the room started looking younger by the minute and soon it was 1965! We went home energized and ready to go for the weekend.
PANTHER SCRAMBLE
Friday we got up when the rooster crowed, for the Panther Scramble golf outing. I was supposedly helping run it, with Linda Campeau. Actually, Linda did it all. Occasionally, over the past year, she'd email or call and say "Jim, what do you think about this?" And I'd tell her it sounded good to me. And it was! Great fun.
We met up with our pacrtners, Chuck Carothers and his wife Laura, and hit the links. Laura is a great gal and very forgiving. Chuck and Laura saved us from total embarrassment on the course, as they actually know how to golf.
After our round we sat down with a bunch of tired and thirsty golfers, and had lunch overlooking the beautiful course. Let me tell you, that cold MGD tasted great. This was the best part of the outing. We talked about careers, hobbies, families, fulfilling retirement activities.
Then, while lurking around the clubhouse, I spotted two other silverbacks and asked if they were with the Park reunion. They said yes. We introduced ourselves.
They claimed to be Paul Lowry and Dave Wieczorek.
Huh? Two of my best friends in high school, and I hadn't recognized them and they hadn't recognized me! After we got our identities straightened out we were set for hours of reminiscing over the weekend.
WINGSPREAD
The Wingspread tour was cool. It is amazing how small people must have been back then, at least in Frank Lloyd Wright's eyes! And can you imagine the guy who built your house coming back, years later, and switching out your furniture while you slept? That's the price of hiring a genius, I guess.
INFUSINO'S PIZZA PARTY
When we got to Infusino's we were getting to be old hands at this reunion thing... saying hi to people as we stared at their chests (apologies if I offended anyone... my eyesight isn't great) to read their name tags. If you didn't feel welcome already, there were Trudy and Art Rozzoni at the door, hawking scholarship fund raffle tickets and joking with everybody in line. We bought an arm of tickets, which is a lot of tickets, measured by Art's mile-long arms.
My pockets were jammed with chances to win the big money. We were sitting pretty.
Infusino's pours a nice drink, and the pizza just kept coming, along with the stories and laughs. At some point in the evening I told Sue I'd be right back... just wanted to find out when the raffle drawing would be, so I could count my money. I never found out, but I didn't return to the table for forty five minutes. Had some great conversations with old friends and new.
While I was away from the table, Kathy Sidwell had come around, and she and Maureen Wieczorek convinced Whiz to let the moths out of his wallet and buy a couple raffle tickets. Of course, I figured his last minute purchase was too little, too late, to stop the Jenkins Juggernaut.
Then Kathy got up and announced the winning numbers. We didn't win the two smaller prizes, but that was OK... it was go big or go home for us.
Kathy announced the jackpot number... Drumroll.... And the winner is... None of my numbers!
I went into a fog of disbelief, til Whiz nudged me. He showed me his ticket... "read this... is this what it looks like?"
It was.
Last-Chance Wieczorek won the pot of gold!
"I've never won anything!" he giggled.
Right. That's when I came to learn about the Amazing Wieczorek Luck. Comped rooms in Vegas, without gambling a penny... upgrades to free food and luxury suites all across the world. A better hotel room at the Marriott than we had, even though they reserved it at the last minute.
One thing I can say for Whiz... he bought the drinks that night. I can see why Mo has stuck with him all these years. Intelligence, wit and charm? Maybe. Luck? Damn straight.
TEACHERS AT INFUSINOS
One of the neatest things at Infusinos was the number of our teachers who were able to join the festivities. It was a great field trip. Here is a list of the teachers who joined us: Ruth Ann Baumann Fennell, Carol Hatch Baldry, Jack Packer, Jeanne Ferraro, Robert Holroyd, Jane Voss Holroyd, Ron Gardina, Paula Von Scheidt Gardina. I remember Miss Hatch struggling to teach me math, and I remember Mr. Gardina leading a trip to the Milwaukee Art Museum. That was a real adventure, since we took the North Shore up there. (Remember the North Shore?). Thanks to each of them for making the night particularly special by joining us.
SC JOHNSON TOWER
Saturday we toured the Johnson tower and office building, a real dream for us. And again, weren't those people small?
Let's vote: FRANK LLOYD WRIGHT:
Genius __X__
Jerk __X__
After the tour I had a nice chat with Tom Patt, Jean Tiles' hubby, class of '66. Tom said his class is just getting started with their reunion, to be held next summer. Pikers.
Thanks so much to Bill Guenther for making all these insider tours happen for us. And for jazzing up every event he put his hand to. Which was every event.
LIVE, FROM RACINE...IT'S SATURDAY NIGHT!
I put on my best Hawaiian shirt for the Saturday night gala. Steppin' out! By then, we felt so comfortable with everybody, after two and a half days renewing friendships and sharing laughs.
It meant so much to introduce my old friend Dave Huck and hear his inspiring words. And Dennis' video was a perfect bookend at the back... particularly with his addition of photos of our days gone by. Great job, buddy. We only regret that Don Piggins couldn't join us at the podium, as we'd originally hoped. If you're reading this, Don, we missed you... get better soon.
The evening was a blast, seeing so many people and sharing stories of some of the many cool alums in our class. It was easy, because people were so approachable, and they had so many interesting stories, written while putting down the roots of their lives. We have a perspective that we didn't have at the twenty year reunion, or certainly the tenth. Thanks to everyone who shared their stories with me!
After the emcee gig I was ready for a drink and some de-compression. Sue and I sat at a table in the bar area, and spent time talking to just about everybody who walked by. Great tales of heroism and adventure emerged. The Roma Lodge venue was perfect. Thanks to Art and Trudy for arranging it all. Delicious food and plenty of it. The main hall was roomy but not a cavern. Good acoustics and sight-lines. The ante-room with the bar and plenty of tables was a great place to relax and enjoy the music in the main hall.
And what music. I knew the Doo-Wop-Daddies were fun guys when I went up and talked to them while they were setting up. I asked them how they wanted to be introduced, and one of the guys said "how about 'nine men and a truck?'" Love it. It was their joke but I got the laughs.
What a band! I couldn't believe how many people danced... and danced! It was the Y-Dance and Spectator's all rolled into one! And no apparent heart attacks, blown knees or slipped discs. The power of good music, good friends, and Advil.
SCHOOL TOUR
Sunday we toured the school, which was fun to see, and the kringle was pretty good too. It was neat to link up with the current teachers and students and see that the Panther Pride is alive and the school is thriving. And it's nice o know that the money our class has raised will help it's students to continue thriving.
I must admit that I mentioned to the nice young man who was one of our student tour guides, that there is an easily-accessible system of tunnels that run throughout the school, and enable an erstwhile spelunker to access the whole kaboodle unbeknownst to faculty and staff. But I warned him that, if caught, it would land on his Permanent Record, and he'd wind up just like me. He said "not interested."
I did find the trap door, by the way, but I didn't open it. I was afraid that the wrong entry on myPermanent Record—already at the tipping point—might screw up my Social Security. You gotta get serious some time, no?
HUNNICUTT RAILWAY
Our final leg of the weekend was to journey up to the Hunnicutt Railroad and see what Jim and Kevin have been doing with their free time. Their place is at the end of a semi-rural cul-de-sac in Mukwonago. They have a charming older home, with a huge, shady yard.
The crown jewel of the garden is the outdoor model railroad they've built over the years. A garden railroad is a large-gauge model railroad built in and around intricate landscaping, integrating the plantings with the layout to create a world of it's own. Jim and Kevin's layout included farms, beaches, tenements, and even a gambling hall and bordello.
We got there before others arrived, and had a chance to see their home, filled with artworks by Jim and Kevin and others. Beautiful. The best part is that we all sat on their deck and talked about our lives. That's what this was all about.
IN CONCLUSION
I promised Kathy I wouldn't thank her anymore. She said this was a team effort and that it took all of the awesome dudes and dudelles of The Class of '65 to make it happen. And it certainly did. We've always been a group with a ready overdrive gear. We were in '65 and we are now. But I will say this. If you hear that Kathy is ever named the CEO of General Motors or Apple... BUY STOCK!
What a world-class weekend!
Jim
Written in memory of our wonderful teacher Don Mittag, who died the evening of our reunion. Don was a serious teacher who still helped helped people see the humor in everyday situations.
***************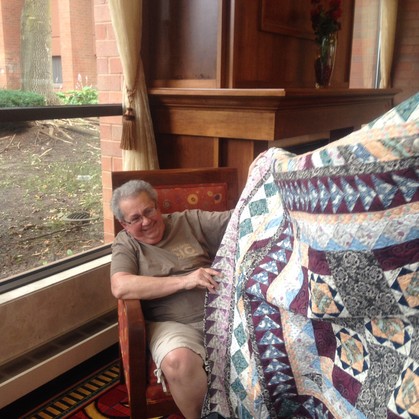 Former Math Teacher Carol Hatch Baldry displayed a beautiful quilt she was finishing. Carol and husband Jim along with Ruth Ann Baumann Fennell attended Infusino's on Friday and the Park Tour Sunday. Great to see and visit with these two fabulous women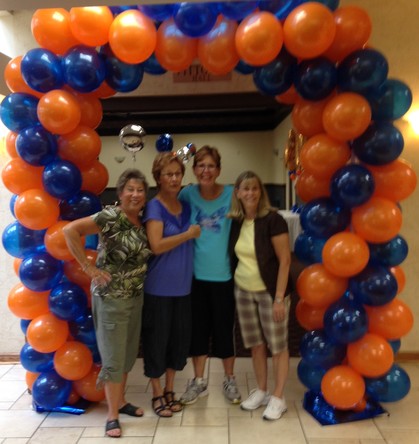 Fabulous Decorations Committee
Carol Tyree, Marilyn Kayon, Diane Kaestner Sheila Dermody
***********************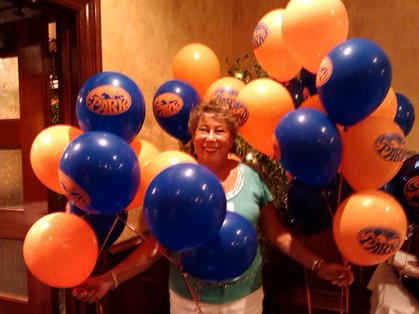 Carol Tyree, Miss Park High Reunion! So darn cute!
Dennis Treu has offered to scan any photos we have from our days at Park. Just send them to dt@aol.com He will set up a blog so we can share thoughts and photos. Thanks Dennis, you are the best!
Panther Breakfast post-Reunion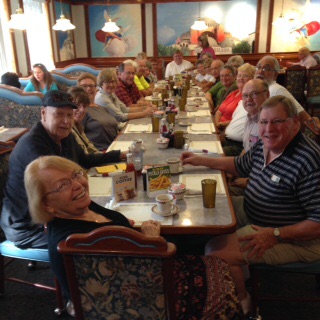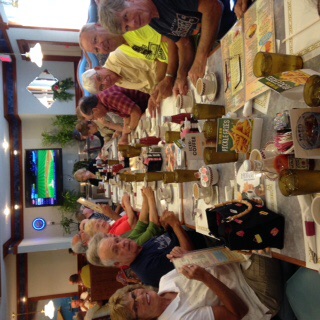 After Labor Day we return to our regular schedule for Panther Breakfasts and Lunches.
**************************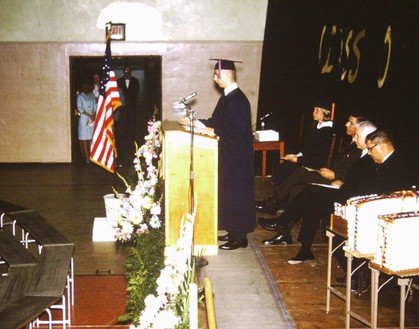 President Scott Leigh addressing the graduating Class of '65
*******************
PANTHER BREAKFAST/LUNCH
Every other Wednesday morning, you can meet with classmates at The Dynasty on Lathrop Ave. for the Panther Breakfast and if you can't make that, then two weeks later, meet for the Panther Lunch at the Charcoal Grill on Washington Avenue. Get on the email list by calling Skip Meekma in Racine. 262-633-7019 or cindyskip2@gmail.com First come, first served.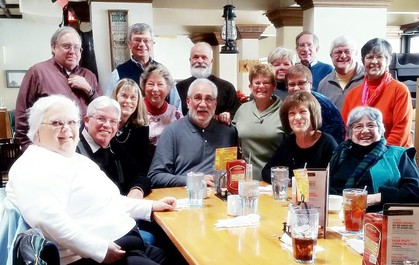 Top Row: Paul Dorsey, Chuck Carothers, Guy Rannow, Jonnie Rasmussen, Bill Guenther, Mike Loomis, Linda Campeau
Bottom Row: Lynn Cutrell, Jim Beyer, Sheila Dermody, Carol Tyree, Art Rozzoni, Karen Klingenmeyer, Judi Mentsch, Judy Shenkenberg, Lynda Zamagni
******************************
Lunch get-together
Linda Campeau, Diane Kaestner, Sandy Hansen, Carol Tyree, Lynda Zamagni, Jonnie Rasmussen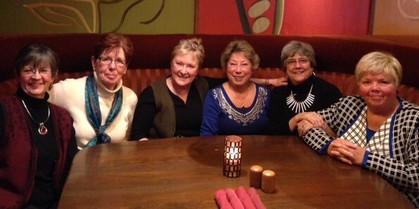 *********************************************
The Villages, FL February 24, 2015
Sharen Breidinger, Peter Winnen, Linda Bodenbach, Karen Yurk and Marcia Wittke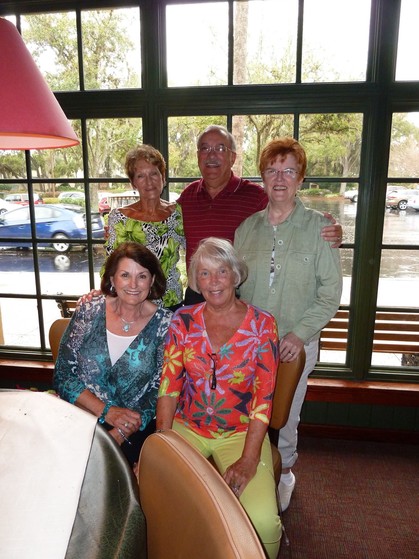 Kudos to Skip Meekma for initiating the Classmate Breakfast every other Wednesday at The Dynasty Restaurant on Lathrop. From left: Lynda Zamagni, Jim Beyer, Art Rozzoni, Mike Holland, Skip Meekma, Diane Kaestner, Trudi Slesarenko, Sheila Dermody, Jonnie Rasmussen. Photo taken by Linda Campeau.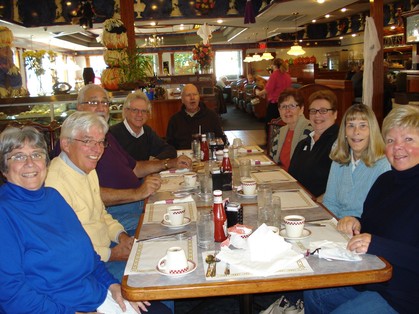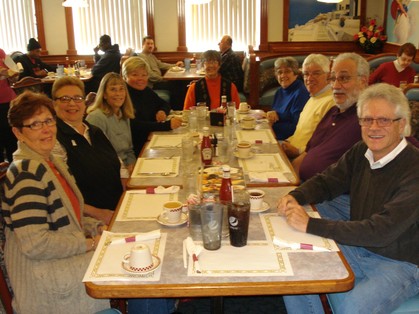 *****************************************************************
Anyone needing to board a pet, there is an excellent dog hotel and day spa states Lynn Cutrell. Dogs aren't crated and staff is on site 24/7. Check out www.woofdorfastoria.com and then call owner Eric Marcus about special rates.
*****************************************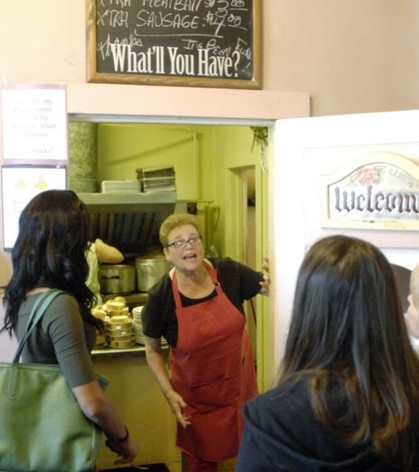 Trudy Rozzoni working her last day Totero's Restaurant on Mead St. Totero's, a Racine institution closed after being a destination in Racine for 39 years. The last plate of Lasagne was auctioned for $200!
***********************************************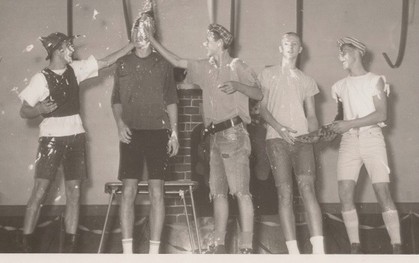 According to John Weibel, we can blame it all on a sociology class assignment. The end result was Rocky Falaschi, John Weibel, Skip Meekma, Mike Snyder and Al Singstock wowing the kids at Southern Colony with a skit that involved plenty of smooth moves and, yes, singing.
Because it was the holiday season, I believe the tune was "Jingle Bells". Skip Meekma was the choreographer, drilling us thru all our intricate moves the day before in Park's 1st floor hallway. We did get an "A", and I can remember that because there were few, if any, other A's ever to appear on my report card. The pic I submitted for the classmates site is one of 3 I found tucked into my kipi, all pretty much the same, but with slight variations. John Weibel
*********************************************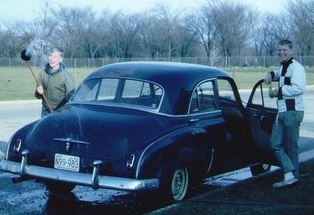 Mark Krogh and Al Singstock vintage photo.
****************************************************
OUR CLASS OF '65 HAS Eleven CLASSMATES THAT ARE MEMBERS OF THE PARK HALL OF FAME--CLICK ON PARK HIGH TRIVIA TO SEE WHO THEY ARE