Washington Park

High School




Class Of 1965
Welcome to the Park High Class Of 1965 website, created to promote our 50th Reunion and help us re-connect with classmates from the Class of 1965. We are open to all suggestions and as is life, this is a work in progress, so stop back often.
CURRENT MINI REUNIONS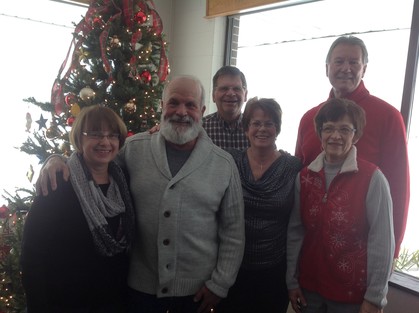 Christmas Morning 2013--Racine Yacht Club
Linda & Guy Rannow, Lon & Joyce Orthey Laehr, Glenda & Bud Gayhart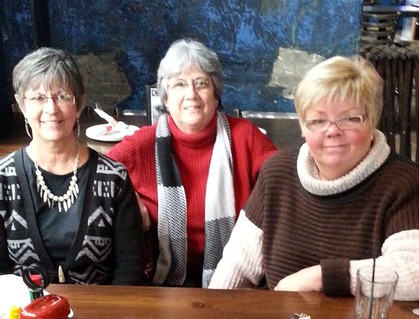 Guess who these ladies are? A clue--they met recently for lunch in Milwaukee.
See below for answer!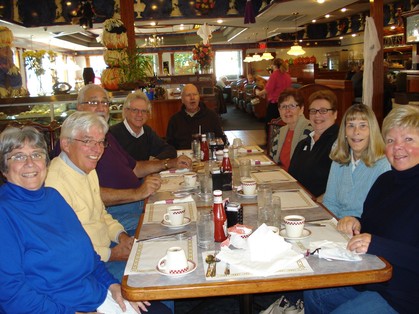 Can you guess who these ladies are? We met in The Villages on February 3rd. From left to right (maiden names): Anita Young, Karen Yurk, Sharen Breidinger, Marcia Wittke, Barbara Kingsfield, Linda Bodenbach and Kathy Sidwell. Spent almost three hours catching up and talking about what we would like to see at THE REUNION! Sharen drove over three hours to meet, Karen Yurk about an hour and Anita and Kathy drove about 90 minutes. Was it worth it! Oh Yeah. Marcia mentioned that we are all still HOT--HaHa.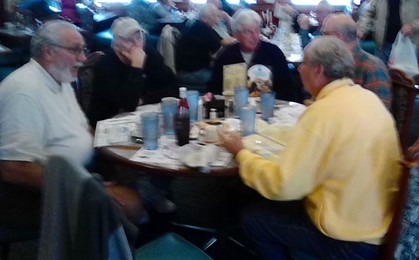 Rikki Maragos and Sue Greeley looking at "Park High" sweaters to wear to the reunion!
This site has brought about a lot of re- connecting with old friends. Now there's a way to reach out to classmates that we have lost touch with. Sue Greeley and Rikki Maragos visited in Delray Beach, FL over the holidays. Dian Wehrle, Jill Runge and Cheryl Melik all live within two hours of each other and hope to meet for lunch. Anita Young, Linda Bodenbach, Marcia Wittke, Barbara Kingsfield, Karen Yurk, Sharen Breidinger and Kathy Smullen are meeting for lunch in The Villages in early February. Jim Jenkins and Gary Howards hope to meet for a beer in the Madison area soon--once they recover from knee replacement and a broken spine. There are plenty more of these meetings in the works. It's fun; it's interesting to see what our old friends have done and even more interesting chatting about current interests and plans. Remember to take a photo at your meet-up and send it to me. We will be having the most amazing 50th High School Reunion!!
The current Mini-reunion classmates are Linda Campeau, Lynda Zamagni and Jonnie Rassmussen.
Bring back some memories?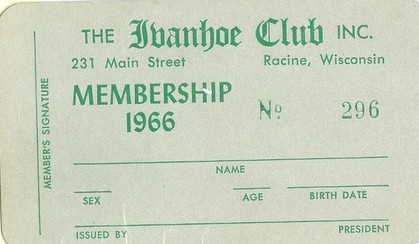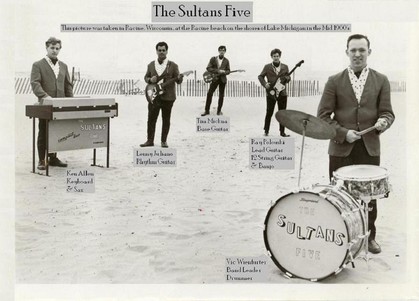 Hope Hansen just sent me some of the items from her Memory Box. Great stuff, Hope. Thanks for sharing. I'll post them from time to time. Dance programs, some Beacon articles, and plenty of graduation stuff. But this card from The Ivanhoe brought back some fun memories. Jim Jenkns has talked about the Y dances that many of us attended on Friday nights during the school year. But the summer, ah the summer was filled with part-time jobs, Zoo beach, and at nights The Spectator Club and later The Ivanhoe. Started up by some guys from St. Cat's and maybe one from Horlick, it was "the place" to go to and be seen. You bought a membership for what maybe $10 and that admitted you all summer. Plenty of music and some nights live bands like The Sultans V! No drugs-heck that wasn't an issue in the early 60's, no alcohol unless someone sneaked something in, but lots of music and lots of dancing. Cool beans that was fun stuff.
Per Joel Sys.........
The Ivanhoe Club was a great place to be, Fridays and Saturdays and three nights a week during school breaks. It was started by Tom "Tiny"Hansen (Horlick Class of 1964) and John "Maynard" Christensen (Park Class of 1964). They ran a tight ship Tom still is in Racine and is the long time owner of Hanson's Bar on Gould Street and John became an executive with the AFL-CIO in Washington, DC. after working at the Massey Ferguson NA Parts Warehouse. Both nice guys. John had somewhat of a checkered past. He was a former Golden Gloves boxer and kind of always lived on the edge. I was connected to the guys primarily through John's sister, Arlene (Park Class of 1966).The competition was the "Nitty Gritty" a block South and on the opposite side of Main Street. I never knew who ran that dance club.
OUR CLASS OF '65 HAS TEN CLASSMATES THAT ARE MEMBERS OF THE PARK HALL OF FAME--CLICK ON PARK HIGH TRIVIA TO SEE WHO THEY ARE
Every now and then I will feature two Hall of Famers, then retire them to the Park High Trivia Page. Information courtesy of Barb Kemnitz Salvo
Barb Kemnitz Salvo in 1992
Inducted in 1992, Barb was selected for her work in education. At the time of her selection, Barb was a science teacher and science team coach at Park High School. Her Hall of Fame nomination included the following information:
"Barb has been a science educator for over 20 years. Her Park High Science Teams have received national recognition. Her commitment to science education is three-fold – the development of students' enthusiasm for learning and their ability to solve problems, ask questions and seek answers; the development of qualified and caring science educators; and the development of a strong hands-on curriculum with which to challenge and excite students. Barb received the Presidential Award for Excellence in Science Teaching and an honorary doctorate in science education from Ripon College."
Wallace Booker in 1995
Inducted in 1995, Wallace was selected for his work in community service. At the time of his selection, Wallace was employed at Twin Disc in Racine. His Hall of Fame nomination included the following information:
"Wallace works on a volunteer basis as a basketball coach throughout the Racine community in such groups as the Optimist Club, Racine All Stars, Small Fry and RK All Stars. All of the seniors from his 1993 basketball team were recruited to a Division I or Division II school. He feels it is important to give back to the community as much as possible. The most important thing he has found is – If you tell a child, they might forget. If you show a child, the might remember. But if you involve a child, they will succeed."
Washington Park High Class of 1965 50th Reunion Weekend
SAVE THE DATE: AUGUST 7, 8 AND 9th 2015
We have picked the dates & have reserved the halls for our 50th Reunion. This will be a really fun and memorable weekend—not just a one night stand.
FRIDAY:
Golf outing morning

Johnson Foundation at Wingspread Tour afternoon (FREE) O

riginally was the H.F. Johnson family home

Pizza night at Infusino's
SATURDAY:
SC Johnson Administration Building, Fortaleza Hall, & Research Tower Tour (morning) (FREE)

Possible Meet 'n Greet at the Oasis North Beach

Dinner at Roma Lodge
SUNDAY:
Tour of Park High with Kringle and Coffee (No Charge)
All of the tours are free!