Park High Trivia
HISTORY OF OUR SCHOOL The school traces its roots to 1852 when Racine High School, the first public school in Wisconsin opened. In 1926, the Racine School Board decided to replace Racine High School with a new school that would eventually become Park. The new Washington Park High School opened in 1928. About the same time, malted milk magnate William Horlick opened his own school on the north side of Racine, setting up the long-time rivalry between the two institutions.
Much of the history and memorabilia (including art, awards and traditions) from Racine High School were moved to Park. The statue of Joan of Arc that was donated by the Racine High School Class of 1904 is displayed in Park's foyer. The school's newspaper, The Beacon (a reference to Racine's Wind Point Lighthouse), and the school yearbook Kipikawi (a Native American name for the Root River), were also both carried over from Racine High School.
*******************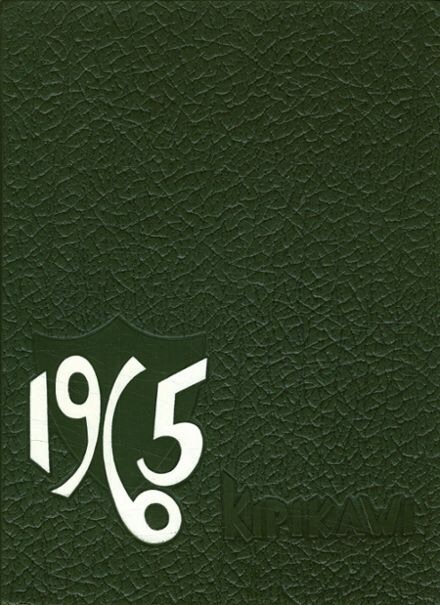 STUDENT HANDBOOK
Here are a few pages from the WPHS Student Handbook borrowed from Lynda Zamagni. Explanations of where to find Lost and Found, the Counseling Office and tardiness and truancy, the book also dealt with extra costs of our fine education. "For the modest rental fee of $4.25 per semester, Park students are furnished all their textbooks, clean gym towels, lockers, and locks." In addition to the rental fees, the SCA or Student Cooperative Association charged $8.00 for membership. Included in that fee were the Park Beacon, the Kipikawi (which alone would have cost a whopping $5.00), admission to all drama and musicals, and admission to all home football and basketball games. What a bargain that was!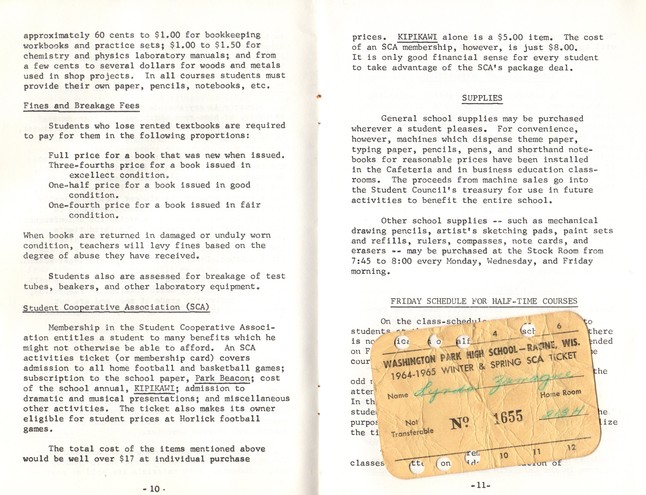 *******************************************************
JOAN OF ARC
Pictured with Joan are Jim Jenkins, Tom Gustin, Guy Rannow chasing MisFortune (Brian Johnson).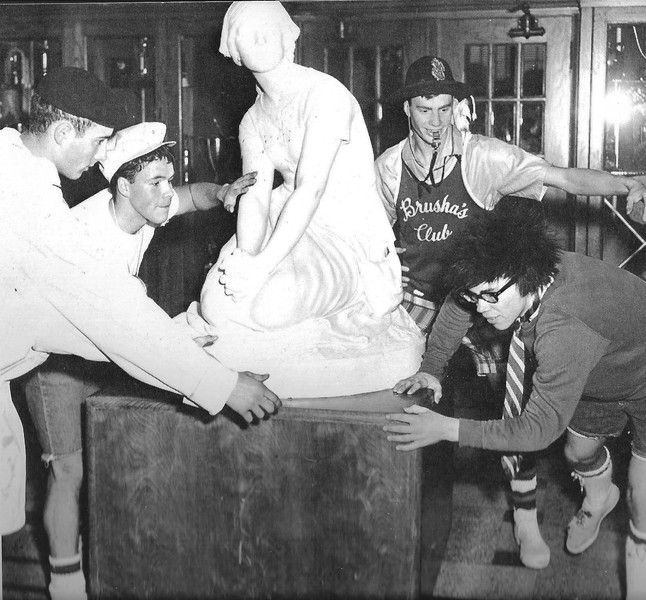 As is stated in the above paragraph Joan was donated by the Racine High School Class of 1904--that makes Joan almost 110 years old. Yikes! You might think it strange that Joan was chosen as a "mascot" for the halls of a public high school in Racine, Wisconsin. However, Joan of Arc had achieved cult status among Catholics and non-Catholics alike in the late 19th and early 20th centuries. Her story of pious dedication and strength was deemed especially appropriate to the formation of young students. Now if you Google Joan of Arc you will most likely find Joan perched on a horse clothed in a full suit of armour prepared for battle. However "Our" statue of Joan is that of a peasant girl maybe in her mid-teens--just the same age as high school students here at Park. No armour, no sword, no battle horse. Joan has been a popular figure in cultural history. It was noted that she won the Battle of Orleans, becoming a heroine to the French, only to be tried and convicted by the English of the crime of heresy two years later. She was executed at 19. The French held her close to their hearts as one of the youngest leaders in history. Perhaps that is the reason that Joan was chosen by the Racine High class as a gift to Park. She was the same age as high school students 14-17 when she began her short and illustrious rise to leadership of the French nation.
As written on the plaque attaced to the base for the statue of Joan
"This statue is a replica of a famous statue of Joan of Arc housed in the Louvre in Paris, France. It was a gift of the class of 1904 to the old Racine High School. In 1929 Washington Park High School was built and the statue was moved to the new school and placed in the basement tunnel. Joan resided there many years only being used for plays or other events when she was appropriate. In the 1940's a committee of teachers and students was formed to restore Joan. At that time the present base was created and Joan was moved to her location just inside the front door to Washington Park High School. In the 1960's when J.I. Case High school was the new high school in Racine, a group of Case students succeeded in kidnapping Joan as part of Case Homecoming festivities. Joan was eventually returned to her home in front of the main entrance none the worse for wear.
Later in the 60's Joan was severely damaged by a burglar who got into a scuffle with a custodian. This damage was so severe that is took several years to repair the damage to Joan's face. In the early 70's Joan was placed in the Library for safe keeping. She was kept in the Library until 1981 when the school was repainted. At that time she was placed back out in her traditional spot, greeting visitors to the building.
Joan of Arc's vision became the vision of her country. and although she suffered death at the hands of the English, she did lead her country to several major vistories over England. The strength of Joan of Arc's vision as a very young woman helped her country become united and eventually throw out the English. Perhaps some young person at Park will have a vision for his or her country that will lead us toward peace and prosperity or to be a drugand violece free nation. Joan of Arc symbolized for the youth at Park that they too should take courage and follow their own vision for themselves and their nation."
Park High Hall of Fame
To be considered for the Park Hall of Fame, someone simply sends a letter of nomination addressed to the Hall of Fame Committee at Park. Nominations are due by the end of January each year. The nominees are then sent an information packet to complete and return to Park. After the committee receives the packets, they are evaluated and recipients are selected for presentation at graduation that year. Nominees must have graduated at least 10 yrs. prior to their nomination (not a problem for us!). Selection is usually based on excellence in their professional field and/or humanitarian/volunteerism efforts.--per Barb Kemnitz Salvo
Members of the Class of 1965
Dennis Barry in 1982
Dennis was selected for his work in Government service. His Hall of Fame nomination included the following information: "Dennis became the Presiding Judge of Racine County Circuit Court- Branch 5 in August of 1980. At that time he was the youngest judge (33) in Wisconsin's Second Judicial District, which includes Racine, Kenosha and Walworth Counties. Immediately prior to his judgeship, Dennis served as Racine County District Attorney, where he earned recognition by prosecuting many serious felony cases himself as well as initiating several important administrative changes. His efforts helped bring about such things as: the Racine County Arson Control Unit and the Racine County Crime Victim/Witness Program to name just a few."
John W Danford in 1985
Inducted in 1985, John was selected for his work in education. At the time of his selection, John was a professor of political science at the University of Houston in Houston, Texas. His Hall of Fame nomination included the following information: "After graduating from Dartmouth College, John obtained graduate degrees in Political Science from Berkley and Yale Universities. He has taught at Yale, The University of Chicago and the University of Houston where he is an Associate Professor in Political Science and the Honors Program. Among his many publications is a book, Wittgenstein and Political Philosophy."
John P Stropes in 1986
Inducted in 1986, John was selected for his work in the arts. At the time of his selection, John was the Chairman of the Guitar Department at the Wisconsin Conservatory of Music. His Hall of Fame nomination included the following information: "My favorite style of guitar playing has always been American finger-style guitar. After graduating from college I decided to see what I could do to put this style on par with other styles like classical and jazz guitar, which had already achieved some degree of legitimacy. Over the years I've pursued this through teaching, writing, publishing, and concert promotion. Described as the leading authority on American finger-style guitar, I have brought focus on this style as a significant American music form through historical research, analysis, transcription and teaching. John served as the President of the Milwaukee Foundation of Guitar Studies, Inc. and the Milwaukee Classical Guitar Society. In addition he has authored several books including 20th Century Masters of Finger Style Guitar"
Alan Ruud in 1990
Inducted in 1990, Alan was selected for his work in business. At the time of his selection, Alan was the President of Ruud Lighting. His Hall of Fame nomination included the following information: "After graduating from MSOE with a degree in electrical engineering, Alan's career focused in the area of lighting. He founded SPI Lighting in 1975. Alan received numerous regional and national Lighting Design awards from the Illuminating Engineering Society. He was the recipient of two Wisconsin "Governor's New Product Awards" and received the 1988 Racine County Small Businessman of the Year award."
Barb Kemnitz Salvo in 1992
Inducted in 1992, Barb was selected for her work in education. At the time of her selection, Barb was a science teacher and science team coach at Park High School. Her Hall of Fame nomination included the following information: "Barb has been a science educator for over 20 years. Her Park High Science Teams have received national recognition. Her commitment to science education is three-fold – the development of students' enthusiasm for learning and their ability to solve problems, ask questions and seek answers; the development of qualified and caring science educators; and the development of a strong hands-on curriculum with which to challenge and excite students. Barb received the Presidential Award for Excellence in Science Teaching and an honorary doctorate in science education from Ripon College."
Wallace Booker in 1995
Inducted in 1995, Wallace was selected for his work in community service. At the time of his selection, Wallace was employed at Twin Disc in Racine. His Hall of Fame nomination included the following information: "Wallace works on a volunteer basis as a basketball coach throughout the Racine community in such groups as the Optimist Club, Racine All Stars, Small Fry and RK All Stars. All of the seniors from his 1993 basketball team were recruited to a Division I or Division II school. He feels it is important to give back to the community as much as possible. The most important thing he has found is – If you tell a child, they might forget. If you show a child, the might remember. But if you involve a child, they will succeed."
Ralph (Bud) Francis, Jr in 2000
Inducted in 2000, Bud was selected for his work in business. At the time of his selection, Bud worked as a professional engineer. His Hall of Fame nomination included the following information: "Bud is the owner of two companies focusing on consulting and manufacturing. He is the holder of eight patents. Bud designed a photographic system for the detection of cancer. In addition to his work responsibilities, Bud served as the chairman of the GTI Robotics Advisory Council and was active in the Aircraft Owners and Pilots Association and the Experimental Aircraft Association. "
Marilyn Kayon McGoldrick in 2001
Inducted in 2001, Marilyn was selected for her work in education. At the time of her selection, Marilyn was the President of St. Catherine's High School in Racine. Her Hall of Fame nomination included the following information: "As President of SCHS, Marilyn is responsible for all aspects of the school from curriculum and school operations to budget and development work which is "raising friends, funds and freshman" for SCHS. Prior to her position at SCHS, she was in secondary school administration for 14 years. Before becoming an administrator, she taught English for ten years in Racine Unified schools and three years at Gateway Technical Institute. Her last teaching position was at Park High School teaching freshman, sophomores and juniors. Marilyn is active in many local, state and national organizations including RAMAC, Taylor Home Board, Rotary Downtown Club, Wisconsin Association of Curriculum and Development Board and the National Association of Secondary School Principals to name just a few. In 1998, Marilyn received the RAMAC Administrator of the Year award."
James Turek in 2005
James was selected for his work in community service. James received his Hall of Fame award posthumously. The award was accepted by his wife. His Hall of Fame nomination included the following information: "Jim was a management accountant and operated a small business accounting practice, Accounting Solutions Plus. He also was involved in non-profit accounting for churches and schools. Jim had a strong commitment to community service. He served as the treasurer of the Racine Unified School Board, the President of the Mt. Pleasant Storm Water Drainage Commission, a supervisor on the Mt. Pleasant Town Board and President of the Village of Mt. Pleasant. "
Cheryl Moherek Buckley in 2008
Cheryl was selected for her work in community service. At the time of her selection, Cheryl was the Executive Director of HALO. Her Hall of Fame nomination included the following information:
"Cheryl spent 31 years in the YWCA/YMCA system beginning as a fitness instructor and eventually working up to a senior executive position, retiring from the Y in 2002. She returned to Racine becoming the Interim Director for the Women's Resource Center (the local domestic violence shelter). She was asked to apply and then became the director of HALO, a community vision to build a homeless shelter and create programs for those experiencing homelessness. The shelter is now a reality with 120 beds providing basic needs and programs to help individuals become independent and self-sufficient.
Alfonzo Thurman in 2015
Thurman earned his bachelor's degree in English from the University of Wisconsin-La Crosse in 1971, his master's degree in educational policy and administration from the University of Wisconsin-Madison in 1973, and his doctorate from UW-Madison in 1979.Thurman's entire professional career has been dedicated to public education. His career began at Northern Illinois University in several administrative and faculty positions and continued at the University of Wisconsin-Milwaukee where he served as dean and professor at the School of Education from 2001 to 2011.Beyond his professional work, Thurman was a member of the Holmes Partnership, which has the goal of improving teacher education programs, providing better prepared educators for Milwaukee Public Schools. He also served on the American Association of Colleges for Teacher Education as an executive board member for 13 years. Thurman's major community work has been his efforts with Educare Milwaukee, growing an innovative birth-to-5-year-old childcare center for low-income families.
Kathleen Sidwell Smullen in 2018
After graduation from Park High School, Sidwell Smullen went on to UWM and graduated in 1970 with a B.A. in psychology. She is a self-described master organizer and has used those talents in her career. She organized the Park High School 50 year class reunion. The class reunion consisted of a three-day event. Almost 300 of her classmates attended the final night's celebration, and over half of her class of 700 attended at least one of the three events. She describes the highlight of her reunion as a scholarship for Park High School seniors. To date, approximately $25,000 has been awarded to seniors at Park High School.
The Park Hall of Fame has been in existence since 1974. There have been only several years with ten members selected from one class--1940, 1945, 1946, 1952 and of course our class 1965! Congratulations to these classmates.
Classmate Phil Schultz "Lifetime of Art" story in Journal-Times October 15, 2013
From cast bronze and welded-steel sculptures to oil paintings and multimedia pieces made with found and recycled objects, the lifelong Racinian has spent the last 30 years amassing a large body of work, most of which has not been seen outside his home — until now.
An exhibit of Schultz's work on display in the University of Wisconsin-Parkside's Foundation Gallery marks the first major exhibition for the 66-year-old artist. And the long, difficult path he's traveled to get to this point may best be described by the title of his show: "Phillip Schultz: One End of Forever."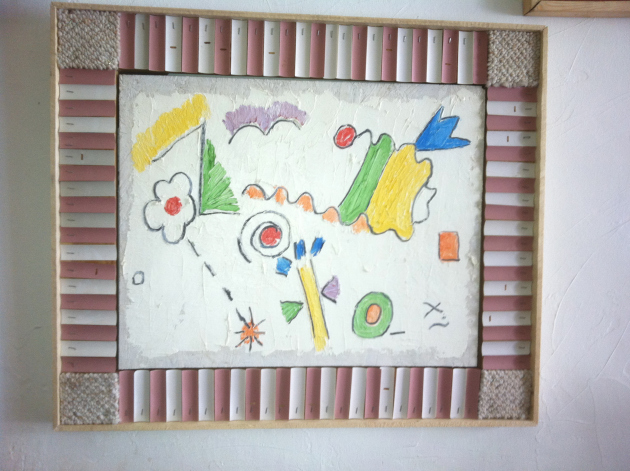 Obituaries of Teachers and Coaches
Donald Carl "Don" Mittag

Donald Carl Mittag, 83 passed away peacefully on August 8, 2015.
Donald was born on March 2, 1932 in Mason City, Iowa, the son of August and Emma (Zahrling) Mittag. Donald grew up on the family farm near Myrtle, Minnesota, youngest of 5 siblings. Donald graduated from Albert Lea (MN) high school and then obtained his BA diploma from Mankato College, where he met his future wife, Mae Forde. He went on to earn an MA degree from Iowa University and spent his career as a teacher.

Don taught at Kerkovan High School in Minnesota and then moved to Racine, Wisconsin, heading the speech and drama department at Park High School. He then established and headed the same department at the newly constructed JI Case High School, where he also established a radio/television station within the school to teach media arts.

In Racine Don and Mae started a family and raised 3 sons, Todd, Mark and Dan.The family then moved to Michigan, where Don taught adult education in Eaton Rapids. He went on to work for Newspapers in education for the Detroit Free Press, from which he retired. Donald was a creative and well respected educator his entire life, shaping the lives of thousands of students.

Don was active in every community that he resided in ;latest as a member of the SAL of the American Legion Haslett post. Don had numerous friends over the years and will be missed by more people than can be properly counted. Don was truly a gentle soul and got along with virtually everyone he met; he rarely had an unkind word to say about anybody.

Don was a golfer as well as a big sports fan, rooting for the Iowa Hawkeyes, Detroit Tigers, Michigan State Spartans and, most importantly, his beloved Green Bay Packers. He loved the theater and developed a great appreciation of the band Pink Floyd; he attended 2 of their concerts

Don was preceded in death by his parents, wife Mae and all but 1 of his siblings. Surviving to cherish his memory are sons Todd (Cheryle) Mittag, Mark Mittag, Dan (Shannon) Mittag, sister Millicent Larson, grandchildren Jennifer Beauchaine, Laura Beauchaine, Rebecca (Jeremy) Stevenson, William (Jamie) Beauchaine, Erin (Bobby) Crandell and 9 great grandchildren, whom he loved dearly, as well as several nieces, nephews and their families.

Funeral service will be held Thursday, August 13, 2015, 11: 00 am. at Gorsline Runciman Funeral Homes, 1730 East Grand River Avenue, East Lansing with viewing 1 hour prior to the service.
Obituary for Teacher and Coach Donald Schutt MCFARLAND - Donald Arthur Schutt, Sr., age 86, of McFarland Wisconsin passed away on November 14, 2014 at the Anderson Inpatient Unit of the Agrace HospiceCare Center in Fitchburg Wisconsin. Don was born in Janesville Wisconsin on August 16, 1928; he was the son of Arthur and Elsie Schutt. Don graduated from Janesville High School in 1946. He attended the University of Wisconsin-Madison from 1946 to 1950 where he earned a Bachelors of Science Degree. While attending UW-Madison, Don was an active member of the Sigma Alpha Epsilon Fraternity and played baseball on Wisconsin's junior varsity team. Following graduation, Don enlisted in the United States Air Force and served as an aviation intelligence specialist during the Korean War (1950 to 1954). Following his service, Don returned to UW-Madison to complete his teaching credentials and start a Masters Degree in History. As a graduate student, Don researched and completed a noteworthy and often cited Master's Thesis documenting the plight of the 192nd Tank Battalion from Janesville whose servicemen were captured by the Japanese (Philippines, 1942) during World War II and ruthlessly exploited on the Bataan Death March. In 1967, Don was awarded his Master of Science Degree in History from UW-Madison. Don met and married his wife of 52 years, Carol Ann (Tygum) Schutt, while attending UW-Madison. They were married on June 22, 1957 in Madison Wisconsin. Don and Carol purchased their first home in Racine Wisconsin, where they lived for 44 years raising their three sons. Don worked as a high school social studies teacher and coach. He initially taught and coached at Racine Washington Park High School (1956 to 1965). In 1966, Don accepted an appointment as the men's head basketball coach and social studies teacher at the newly opened Racine J.I. Case High School. Don retired in 1990 following 34 years in the classroom and on the basketball court. As head basketball coach at Racine Case, Don was truly focused on the stewardship of the student-athlete as opposed to winning at all costs. He coached some very memorable teams and brought his 1978 and 1987 basketball teams to the WIAA State Basketball Championships. Following their retirements from teaching, Don and Carol returned to the Madison area. Don enjoyed being closer to his sons' families. Don was a quick witted, politically astute, and consummate historian in all regards who demonstrated an innate ability to recall even the minutest detail regarding world history, American history, Janesville, and Wisconsin sports lore. Don was also a connoisseur of stuffed olives, especially ones bathing in an ice filled tub of a dirty mix of Bombay Sapphire gin. Don and Carol also spent part of each year in Sun City West, Arizona. There they developed many meaningful and lasting friendships. Throughout his life, Don was a loving father, caring grandfather, and steadfast Badger and Packer fan. In his later years, his ever-present good-natured spirit and humor were infectious both among those closest to him and toward the caregivers who comforted him. Over this past year, Don was especially blessed to have had an incredibly talented physician who went above and beyond her duties to oversee his needs, to comfort him when it was most needed, and to appreciate his sense of humor. We sincerely thank her for dedication and friendship during these difficult times. At the time of his death, he was an active member of the McFarland Lutheran Church (McFarland, Wisconsin) and the Lord of Life Lutheran Church (Sun City West, Arizona). Don was a loving, caring, and devoted son, husband, caregiver, father, grandfather, friend, historian, educator, and coach. Don's good humor, grace, and selfless devotion to Carol that he displayed in his life give us strength in his passing. Don was a true gentleman. We miss you Dad and Grandpa, but know that you continue to live on in our hearts. Forever ingrained in our minds will be your favorite farewell to your grandchildren: "Bye-bye, buy bonds." Don is survived by his loving family; three children, Donald, Jr. (Sarah) Schutt of the Town of Pleasant Springs, Wisconsin, William (Maria) Schutt of Coronado, California, and Eric (Jody) Schutt of the Town of Dunn, Wisconsin; seven grandchildren, Sam and Ben (Donald, Jr. and Sarah), Chloe, Lydia, and Troy (William and Maria), Matthew and Maggie (Eric and Jody); one sister-in-law, Jane (Gary) Ellrod of Granby, Connecticut; and one nephew, Andrew (Nicole) Ellrod of Granby, Connecticut. His wife Carol, his parents, and his grandson Daniel Arthur Schutt, preceded Don in death. A visitation and memorial service will be held at the MCFARLAND LUTHERAN CHURCH, 5529 Marsh Road, McFarland Wisconsin on Wednesday, November 26th 2014. The visitation is scheduled from 12:00 to 1:00 PM. The memorial service with Pastor Kelli Schmit presiding will follow the visitation. In lieu of flowers, memorials can be made to: McFarland Lutheran Church, 5529 Marsh Rd., McFarland, WI 53558, phone (608)838-3184, (http://www.mcfarlandlutheran.org/); Agrace HospiceCare Center, 5395 E. Cheryl Parkway, Madison, WI 53711, phone (608)276-4660 (http://www.agrace.org); or the Wounded Warrior Project, P.O. BOX 758517, Topeka, KS 66675, (http://www.woundedwarriorproject.org). Please share your memories at www.cressfuneralservice.com Cress Funeral Home 5801 Hwy 51 McFarland, WI 53558 608-838-0655 - See more at: http://www.legacy.com/obituaries/journaltimes/obituary.aspx?n=donald-arthur-schutt&pid=173255253&fhid=3728#sthash.EfuNa1Sf.dpuf
Obituary for Gene McEvoy--Mitchell Jr. High --Gene McEvoy September 19, 1928 – August 28, 2014 Eugene H. McEvoy, 85, beloved husband, father, grandfather, friend and educator, passed away peacefully in his home in Door County, Wisconsin on August, 28th 2014. Mr. McEvoy was born on September 19th, 1928 in Milwaukee, Wisconsin. His parents were Harry Grant McEvoy and Helen (Scherbert) McEvoy, both deceased and buried in Fox Lake, Wisconsin. Gene attended West division High School in Milwaukee and graduated in January 1947. He served in the army from 1950 to 1952 and was a member of the 537th field artillery battalion. Mr. McEvoy attended Wisconsin State Teachers College in Milwaukee and graduated in June 1956 with a major in Education and English and a minor in Latin. He moved to Racine, Wisconsin in 1956 to teach ninth grade English and Latin at Mitchell Junior High. He met Betty Lee Forrest at Mitchell and they were married on June 28, 1958. Notably, Gene and Betty were the first married couple allowed to teach in the same public school in the state of Wisconsin. Gene spent seven years at Mitchell as a teacher and one and a half years as assistant principal. In January 1965 he transferred to Washington Park High School as sub-school principal of Orange School. He remained at Park High School for 23 years and retired in June, 1988. In 1983 he was honored as Senior High School Principal of the Year for the Racine Unified School District. During his time at Park High, he also completed his Master of Arts degree in Education Administration at the University of Wisconsin, Milwaukee. Betty McEvoy passed away on January 27th, 2001. Gene and Betty are survived by their four sons: Michael Grant (Marlese), David Forrest (Faby), Douglas James (Larry) and Scott Andrew (Sally), and by their five grandchildren: Maria Elisa, Natalia Lee, Isabella Kate, Mila Raeann, and Benjamin Forrest. Gene and Betty built a summer home on North Bay in Door County, Wisconsin in 1972, and remodeled the summer home into a year-around home in 1999, at which time they moved from Racine to Door County as full-time residents throughout the years of their retirement. Both Gene and Betty were very active in the arts communities of Racine and Door County. Betty was a wonderful water color artist and Gene found his artistic passion primarily in woodcarving of birds. Both were members of the Door County Art League and Gene served on the board of the Peninsula School of Art for six years during the time of planning and building the new school. Gene had a variety of interests in the arts and nature; he also produced pottery, jewelery, metal sculpture and was a woodworker. He loved to plant trees and protect the natural setting of the home on North Bay. Funeral services will be held on Tuesday, September 2nd with visitation from 10:00 am to 12:30 pm at Casperson Funeral Home, 10708 N. Bay Shore Drive, Sister Bay, WI, followed by graveside services at the Little Sister Cemetery, at 1:00 pm. Thereafter, there will be a gathering at the McEvoy residence from 3:00 pm to 6:00 pm at 9452 North Bay Dr., Baileys Harbor, WI. 54202. In lieu of flowers, donations in Gene McEvoy's name can be made to the Peninsula School of Art, P.O. Box 304 Fish Creek, WI. 54212, or to the Door County Land Trust at www.doorcountylandtrust.org/tributes_memorials.htm Registration of condolences can be made on-line at www.caspersonfuneralhome.com Casperson Funeral Home Sister Bay, Wi 54234 920-854-4123
Obituary for Coach Jim Thompson
PORT CHARLOTTE, FL - James C. "Jim" Thompson, 88, of Punta Gorda and Port Charlotte, Florida, passed away Sunday, December 15, 2013 in Port Charlotte. He was born in Chicago, Illinois on March 22, 1925 to Gertrude (nee: Alderson) and Conrad Thompson. A veteran of World War II, U.S. Army, Jim returned to graduate from the University of Wisconsin. He was a respected High School Principal and coached football at Birnamwood, Watertown and Racine High Schools in Wisconsin from 1951 to 1966 winning three championships with one undefeated season. He was named to Wisconsin High School Football Coaches Association's Hall of Fame. Jim was an avid Wisconsin Badger's and devoted Green Bay Packers fan. He will be remembered for his smile, and enjoyed speaking with everyone he met. He is survived by his wife of 60 years, Anita; son, Andy (Annie) Thompson; daughters, Sara (Richard) Toxen and Dr. Lisa (Steve) Thompson; and nine grandchildren. A Memorial Service celebrating James's life will be held 11:00 a.m. Saturday, December 21, 2013 at South Port Square's Town Hall, 23033 Westchester Blvd in Port Charlotte. Arrangements are by Roberson Funeral Home & Crematory, Punta Gorda Chapel. Memorial Service Saturday, December 21 11:00 AM South Port Square Town Hall 23023 Westchester Blvd, Port Charlotte, FL 33980
Obituary for Kenneth Bahnson, Assistant Principal
MINNEAPOLIS, MN - Kenneth Bahnson, 91, passed away peacefully Friday, November 8, 2013, in Minneapolis, MN where he was recovering from a broken hip. Ken was born August 25, 1922 to Carl and Caroline Bahnson. He often spoke of his happy childhood as the youngest of four children growing up in Racine, WI. He attended Park High School, University of Wisconsin- LaCrosse and Lawrence University where he earned a teaching degree. He earned his Master's degree in educational administration at Denver University, traveling to Colorado every summer for several years with a group of fellow teachers to take classes. He was a student athlete and he was a life-long advocate of exercise, walking miles every week with the aid of his walker into his nineties. Ken was a teacher and coach at Horlick High School in Racine, then at Park High School where he was an assistant principal and finally he helped to design and oversaw the construction of J.I. Case High School as its first principal. He completed his professional life as an administrator at the Racine Unified District office. He enjoyed teaching and continued coaching even after he retired as the special teams coach with the Racine Raiders. Ken married a fellow teacher, Mary Elizabeth Emmett in 1952. They had four children. They moved as a young family to Glendive, Montana where he took a job as principal at Dawson County High School for three years before returning to Racine. Mary died in 1968 and Ken was a single parent with the help of many relatives and family friends. In 1971, he married Ellen Dailey Jiles. In the 1980s Ken and Ellen moved to Eau Claire, WI to be near his grandchildren. He continued to be active in the community serving on the Age AdvantAge Council for Western Wisconsin and the Anti-Tobacco council of Eau Claire County. Ken volunteered at Luther Hospital, visited cardiac patients as a member of Mended Hearts, was a volunteer driver for the county, taking clients to appointments and he delivered books to the youth at the Eau Claire Juvenile Detention Center. His parents, his wife, Mary Emmett, his brothers, Charlie and Roy and his sister, Helen, preceded Ken in death. He is survived by his wife, Ellen Bahnson, his children Carl Bahnson, Barbara Bahnson, Beth Mielke and Margaret Bahnson, five grandchildren, one great-grandchild and many nieces and nephews.
Obituary for Norman V Lanning Music & Band Teacher
Norman V. Lanning WAUWATOSA, WI (FORMERLY of RACINE) – Mr. Norman V. Lanning, 79, passed away at Froedtert Memorial Hospital on Tuesday, August 27, 2013. He was born in East Liverpool, OH on February 13, 1934, the son of the late Norman and Alice (nee: Pickens) Lanning, Sr. He graduated from East Liverpool High School in 1951. He also received his teaching degree from Ohio University in 1956 and his MA in Music from the University of Iowa in 1967. In between undergraduate and graduate schools he served with the U.S. Army. Mr. Lanning will be fondly remembered by the many students and teachers at Washington Park High School where he taught and eventually chaired the music department from 1963 – 1997. As an educator, he proudly belonged to the Wisconsin Music Educators Conference and the Wisconsin Education Association. Mr. Lanning also served as choral director for numerous Lutheran churches in Racine, including; Emmanuel, Bethania and Emmaus. In addition, he was active in numerous musical ensembles in Ohio and Wisconsin. Most notably, he directed the Johnson Wax Chorus and performed with the Racine Symphony and Theater Guild.
Obituary for Albert E Widner Math Teacher
(Daughter Kathy Widner Rubbo was a classmate)
CHAPIN, SC - A memorial service for Albert "Abbie" Eugene Widner, 90, will be held at 10:30 a.m. Friday, September 20, 2013 at St. Peter Lutheran Church "Pineywoods" in Chapin, SC. Caughman-Harman Funeral Home, Chapin Chapel is assisting the family with arrangements. Abbie was born February 20, 1923 in St. Marys, OH and passed away on Sunday, September 15, 2013. Abbie was a member of St. Peter Lutheran Church "Pineywoods". He was also a charter member of the American Legion Post 193 Chapin, Mid- Carolina Country Club, Retired Teachers Association of Wisconsin and Several University Alumni Associations. Abbie served his country in the United States Navy from 1942 to 1946. He was a Petty Officer 1st class (electrician/gyroscope tech) serving in the Pacific Theatre aboard the USS LCM 370. He received his B.S. from the University of Illinois in 1950 and his M.A. from Arizona State University in 1969. Abbie was a school administrator/teacher/coach in Racine, WI public schools for 34 years. In 1981 Abbie and his family relocated and retired to Chapin, SC.
Obituary for Mr. David Zehren English Teacher
RACINE - David Stanley Richard Zehren, 78, found peace at Harbor House - South in Kenosha on Tuesday, December 29, 2009, following a brave struggle with Dementia and Alzheimer's Disease. Dave was born on July 19, 1931, to the late Clarence and Mary (nee: Beisbier) Zehren. He was raised on the family farm until the Zehren's moved to Fond du Lac when he was 12. On May 7, 1955, in St. Louis Catholic Church in Fond du Lac, he was united in marriage with the love of his life, Donna M. (nee: DuQuette). Following graduation from high school, Dave faithfully served our country during the Korean War with the United States Air Force from 1951 until 1954. Shortly after, he went to the University of Wisconsin-Oshkosh to become a School Teacher, where he received a scholarship from the Payne Art Museum for his award- winning artwork. Dave taught English and Modern Literature at Washington Park High School in Racine for over 42 years, where he had the unique way of teaching his students the valuable lessons of "Life 101." A different rendition of the sun was drawn daily on the blackboard, he shook hands with every student on their way out of class, and enjoyed sharing his gift of music by playing guitar and singing songs, these were just a few of his memorable trademarks. -
Here are names of some of our teachers and their departments:
ENGLISH--Miss Elizabeth Walker, Mrs. Eugenia Huggins, Mr. Stewart, Mr. Williams, Mr. Gerald Konstevedt, Mr. David Zehren, Mrs. Felton, Mr. Parker--an intern from our Junior year
SPEECH--Mrs. Jo Ann Sawyer DRAMA--Mr. Donald Mittag
POOL BUILDING STAFF: Mr. Andersen-Social Studies, Miss Soper-English
SOCIAL STUDIES: Mr. Smith, Mr. McIntosh, Mr. Holroyd, Miss Bauman, Miss Lochner, Mr. Grosshuesch
MATH: Mr. Christensen, Mr. Al Widner, Miss Hatch, Miss Wollesen, Mr. Worden, Mr. Raymond, Miss Colt
SCIENCE: Mr. Krause, Mr. Vaughn, Mr. Gardner, Miss Gorden, Mr. Harmon, Mr. Workman, Mr. Bergen
LANGUAGES: Miss Wernecke, Miss Von Scheidt, Miss Perlmutter, Miss Wright, Miss Laub
ART: Mr. Gardina, Mr. Walsh, Mr. Ayers MUSIC: Mr. Saetveit, Mr. Lanning
INDUSTRIAL ARTS: Mr. Tasker, Mr. Berthlien, Mr. Decker, Mr. Tschumper, Mr. Woolley
HOME EC: Miss Weidlein, Mrs. Huber, Miss Shankland, Miss Dunn, Miss Mundhenke
Maid Rite Recipe

For those of you who didn't get enough Maid Rites during High School. Here is the Recipe from Ross Osgood.
1 or 2 finely chopped onions
season with Salt & Pepper
1 small jar of sweet pickle relish???? Maybe too much
Simmer for 1 hour. If too thick, thin with tomato juice