In Memory
Dennis Arthur Wood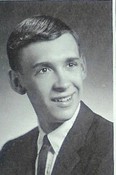 Dennis Wood, 74, of Sarona died November 28, 2021 at Marshfield Medical Center in Rice Lake. He was born September 3, 1947, at St. Mary's Hospital in Racine, WI to Arthur and Martha (O'Connor) Wood. Dennis graduated from Dark High School. He was married in 1983 to Dianna Bauer.
Dennis worked at Twin Disc in Racine for 30 plus years, followed by Rice Lake Weighing, and retired from McNally's in Grantsburg. Throughout the years Dennis' favorite job was working as a gunsmith from the age of 18. This love led him to starting his own business, Sarona Gun Works, LLC.
He was a member of St. Catherine's of Alexandria Catholic Church in Sarona, and belonged to the Knights of Columbus. Dennis also served on the County Board of Supervisors for two terms.
Dennis was an avid outdoorsman. Every moment that he could be outside, he was a happy man. When he was not out hunting, fishing, or working on guns, Dennis loved to read.
He is survived by wife, Dianna Wood; daughter, Jennifer Lyn; nieces, nephews, and many other family and friends. Dennis was preceded in death by his parents, sister, Darlene "Dolly" Wood; other siblings; and his father-in-law, Robert Bauer.
Funeral services will be held at 11:00 a.m. Thursday, December 2, 2021 at St. Catherines of Alexandra in Sarona with Father Phil Juza officiating. Burial will be in Sarona Cemetery. Visitation will be from 4:00-7:00 p.m. Wednesday, December 1, 2021, and one hour before the service.
Skinner Funeral Home of Shell Lake is serving the family.