In Memory
Darlene Ross (Ludwig)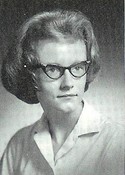 Darlene J. Ludwig, age 59, died at her home in Bremerton on April 12, 2007.
She was born November 29, 1947, in Racine, Wis., and attended Washington Park High School in Racine, graduating in 1965.
She married Charles Ludwig on Jan. 27, 1968, in Racine.
She had been employed with Xerox, 1988-1991, United Business Machines, 1991-1995, and Ikon Office Solutions of Bremerton, retiring November 2006 due to her illness of metastasized breast cancer.
Surviving are her husband, Charles Ludwig of Bremerton; sons, TSGT Charles Ludwig and wife, Courtney of Lakenheath Air Force Base, England, and Spencer Ludwig of Bremerton; granddaughter, Peyton Rose Ludwig of Bremerton; one brother, Donald Ross of Denver; sisters, Sharon Haas and husband, Gary, Vicki McCarthy and husband, Jerry, Cindi Fergus and husband, Wayne, all of Racine, Debbie Schulz of Wawatosa, Wis., and Pixie Schehl and husband, Allan of Caldwell, Ohio.
She is preceded in death by 2 daughters, Rhonda Ludwig, Sharon Ludwig; 2 brothers, Robert and Randy Tryber; her parents, Harry and Delia Ross; and all grandparents.